Greetings to all of our friends engaged in manufacturing with clamping systems,
my name is Sebastian Herr. I am HURCO's Director of Application Technology.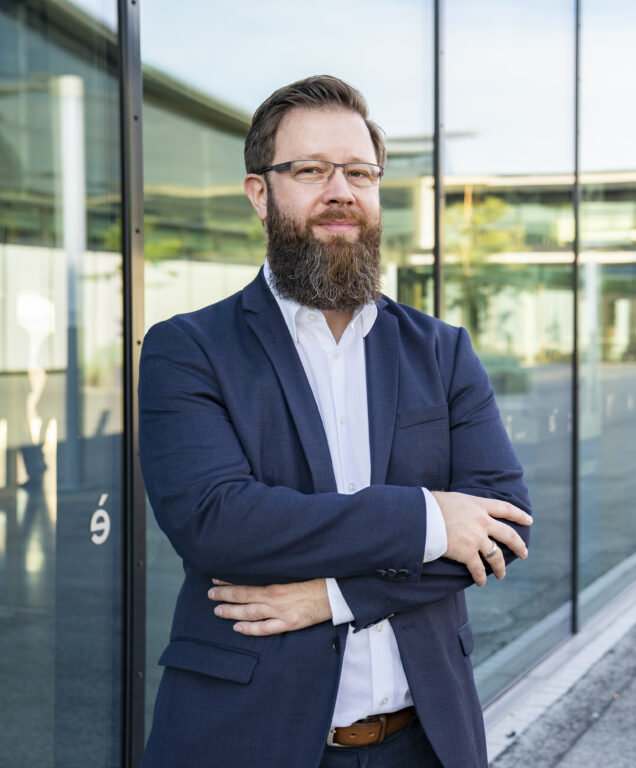 In the following posting, I will be furnishing you with additional information regarding our "Milling a connecting rod" video.
This video shows you the process employed to produce a stainless-steel connecting rod using 5-axis machining. This example clearly demonstrates that processing with trochoidal milling using the HURCO control system is the absolute equal of procedures using the CAM systems as employed by our associated firms. The basic concept remains the same: The tool executes a rotary motion as it proceeds into the workpiece in a penetration process that continues until it is completely immersed and thus able to mill across the entire length of the cutting tool. Throughout the entire processing cycle, the motion pattern is continuously adapted to maintain an invariable and consistent clamping center.
The connecting-rod processing operation that you now have the opportunity to witness is an impressive number. We programmed the pocket milling using TopSolid, which has also been incorporated in our dialog programming. With the HURCO system, the process flows with such seamless smoothness that the simulation displays no detectable difference. The procedures for tool installation and machine set-up also remain absolutely identical, while the program proceeds with no pauses or interruptions of any kind. This unites two technologies in a closely knit combination: HURCO contributes the foundational dialog programming while the CAM builds upon this basis with the DIN-ISO code.
I really want to emphasize that the NC programs are fully integrated in the control system's programmed conversational operating concept. We didn't make the decision to apply the CAM system because we had to; we use it because it works! And above all, because it represents the ideal answer to the typical quotidian conditions encountered in contract manufacturing. These environments frequently encompass multiple machines and operators, but just one or two CAM work stations. Under these conditions, a control system offering immense flexibility is an extremely welcome addition. An essential asset is how this system allows programmers to integrate programs stemming from a variety of sources. The only required qualification is a solid background in machining and metal cutting. When we compare the systems, all that the HURCO operator needs is some basic training in the realm of conversational control systems, while the competitors' systems demand extensive expertise, available only at the cost of considerable time and expenditure.
Now I would like to draw your attention to several special features related to the actual machining process. Right at the outset, we focus on the topic of "automation" by showing you the pallet-loading process. In addition to our own in-house products, we also offer solutions for both component and pallet loading contributed by our close associates at ROBOJOB and EROWA. The present scenario focuses on a solution provided by EROWA. At the same time, we remain open to any and all viable automation concepts that might be needed to meet your own specific requirements.
We commence by showing you heavy stainless-steel blocks weighing in at roughly 60 kg, or just over 130 lbs., on two small clamping modules (each 75 mm in width) sourced from LANG TECHNIK. In the interests of achieving secure clamping, the casting has been endowed with an indentation approximately one millimeter in depth and 125 millimeters wide at its lower edge. The casting is processed using a hydraulic mechanism that presses the clamping module's teeth into the block. The clamping process thus produces a tight positive fit providing immense retaining forces while relying on relatively modest clamping force. This contributes an array of assets of considerable value in the machining and metal-cutting process. It allows the clamping system to serve as a cushioning assembly, resulting in a substantially smoother machining operations. At the end of the day, this means that the connecting rod can be machined at relatively constant load factors combined with a high level of machining performance – in a secured process, despite the high superstructure.
At this juncture, I would like to call particular attention to the simulations of the raw casting and finished part along with the ability to import 3D solid models from the CAD to the control system. This feature is made possible by the "Solid Model Import" option. Starting at second 10, you will be able to see the solid model for the processed part as well as the superimposed casting upon which the machining operation as defined in the control system is simulated. This allows you to check to ensure that everything is proceeding according to plan at this point. From second 39 onward, you receive a clear simulation of the raw casting and machined part, allowing you to monitor the machining path and the rate of metal removal. You can easily view the machine's current motion patterns along with the depth at which the milling tool is currently operating within the workpiece.
This connecting-rod machining process thus illustrates multiple facets of our approach: The ease with which a DIN/ISO subprogram can be incorporated in the dialog programming as well as the flawless flow of the processing simulation – all in a single cycle. Also apparent is the smooth functionality displayed during execution of potentially difficult metal-cutting operations on stainless steel. The special clamping mechanism ensures minimal vibration. The foundation is furnished by an adaptive milling strategy that can be utilized to full potential thanks to the machine's vibration-damping properties. In addition, the casting webs to which the connecting rods are attached can be machined so thinly that they can simply be broken off once the machining process has been completed. It is now possible to grind off the burr, at which the connecting rod is finished – in one machining operation and with one clamping process.
Partners
Automation: EROWA
Tool-clamping technology: LANG TECHNIK
CAD/CAM system: TOPSOLID
Distributor: MOLDTECH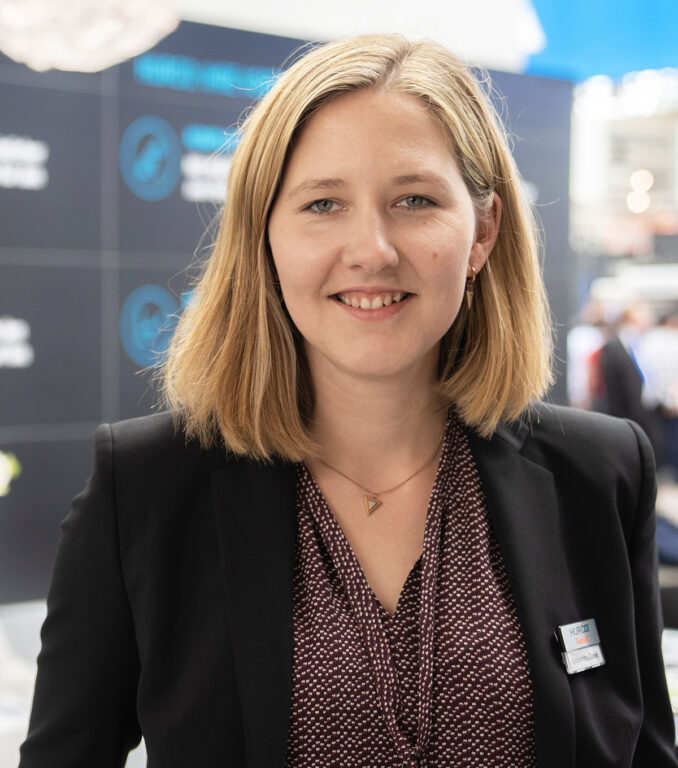 Contact:
HURCO Werkzeugmaschinen GmbH
Alexandra Banek
Gewerbestraße 5 a
85652 Pliening
Phone +49 89 905094 29
abanek@hurco.de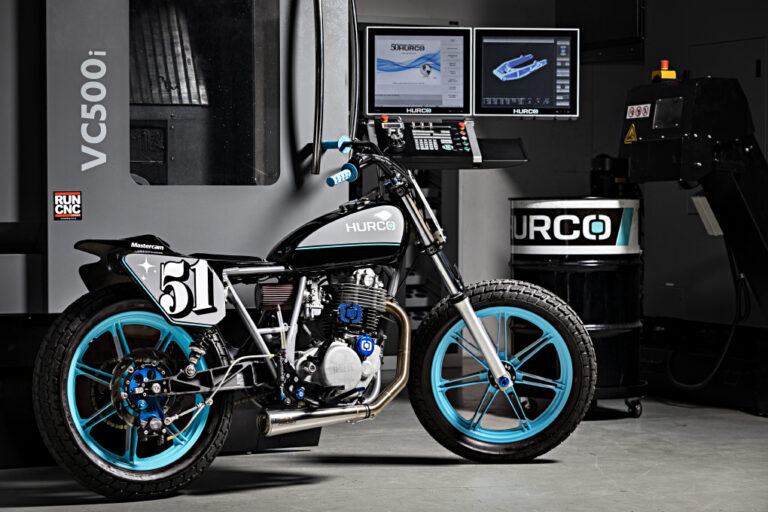 THERE'S NOTHING UNUSUAL about building a custom motorcycle with the primary purpose of taking it to a show. But what if the show in question has absolutely nothing to do with custom motorcycles? That's a cool twist.
The pet project of Maxime Fontvielle
This sharply styled Yamaha SR500 flat tracker is the pet project of 27-year-old Maxime Fontvielle. He's an application engineer at the French operation of the US machine tool company, Hurco—a career he got into thanks to a love of two wheelers.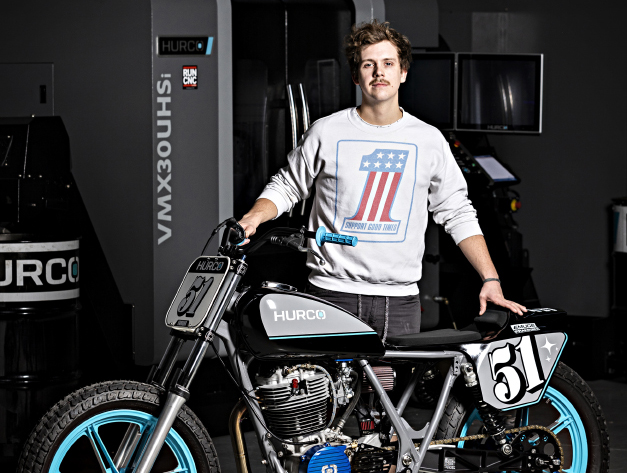 "When I was a teenager," he tells us, "I was passionate about mopeds. While looking at the forums, I saw people making parts for competitive 90s mopeds and I thought, that's what I want to do! I went all the way in with apprenticeships at different companies, then I arrived at Hurco."
Maxime stumbled upon a wrecked Yamaha SR500 for just €100, and had a bright idea: rebuild it as a showpiece for his company, to take to machine industry trade shows.
The other exhibition part
Maxime stumbled upon a wrecked Yamaha SR500 for just €100, and had a bright idea: rebuild it as a showpiece for his company, to take to machine industry trade shows.
"Every year at the trade shows," he says, "all the manufacturers show their new machines in action with classic parts from the aviation industry, etc. I thought it lacked a bit of passion and soul." "I wanted to make a beautiful bike with machined parts on it. I proposed to my boss that I prepare this bike as a real flat track beast. American discipline, American company… this is a match!"
Maxime's boss wisely gave the OK—but there was a tight three-month deadline before the next show. So Maxime decided to divide and conquer. He entrusted the engine rebuild to the Parisian workshop Machines et Moteurs, with a very specific checklist, while he focused on the chassis.
The motor came back with a 540 cc kit and a heck of a lot of internal fettling. Highlights include an upgraded camshaft, improved oil flow, a Mikuni TMR36 carb and a K&N filter. There's also a new header and reverse cone megaphone muffler, both from SC Project in Italy.
Piece by piece to a unique piece
Maxime's first job on the chassis was to install a 19" rear wheel to match the front. He ended up sourcing a second SR unit, and machining it to take a sprocket and a 300 mm brake disc. Then he machined custom wheel axles, adapted the front to run with bigger bearings, and lightened both wheels by 'splitting' the spokes.
There's no brake on the front, but there's a Brembo caliper and master cylinder out back, linked by a braided stainless steel line. Since Maxime was upgrading the bike from a rear drum brake, the whole arrangement is custom—right down to the caliper bracket and foot controls.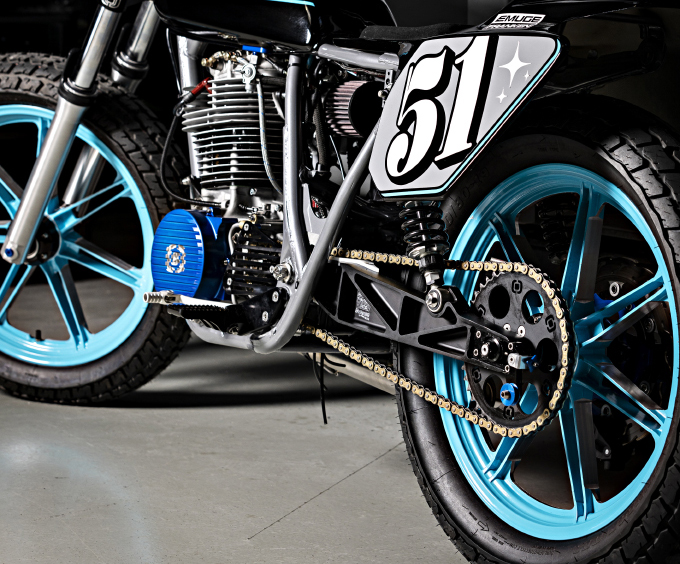 Up front is a set of Yamaha XJR1200 forks, with a custom steering stem, yokes and bar risers. Out back are a new set of shocks, hooked up to a custom swingarm—a part that Maxime's boss requested, to show off Hurco's machines' capabilities. Made in partnership with the CAD/CAM company Mastercam, it's tailored specifically for this bike—with little details like a caliper support mount, and paddock stand supports.
 Custom Bike in Hurco color
It's a subtle part that needs to be appreciated up close; but so are the other custom touches on this Yamaha.
From the engine covers to the chunky foot pegs, to the entire kickstart lever and pedal, Maxime's gone to town without going over the top. Look even closer, and you'll spot more, finer details—like the logos etched into the sides of the yokes.
Up top is an Airtech Streamling tail piece, matched to the OEM fuel tank, a front number board, and a set of flat track bars. For the livery, Maxime's brother, a designer at the Austrian design powerhouse Kiska, helped out with over thirty mockups—all of them using Hurco's corporate colors.
Everything's now finished in black and grey, with two shades of blue for accents (one for paint, and one for anodizing). Another buddy, Jerome, took care of the decals; a nod to all the partner companies that worked on the project.
Not only does the SR look hella sharp, but it's also reportedly a treat to ride. Maxime plans to get sideways with it on a flat track soon… but until then, its main job is to put Hurco's next trade show booth head and shoulders above the rest.
Zachary Lovelace
Picture: ©Yann Deret
Article from www.bikeexif.com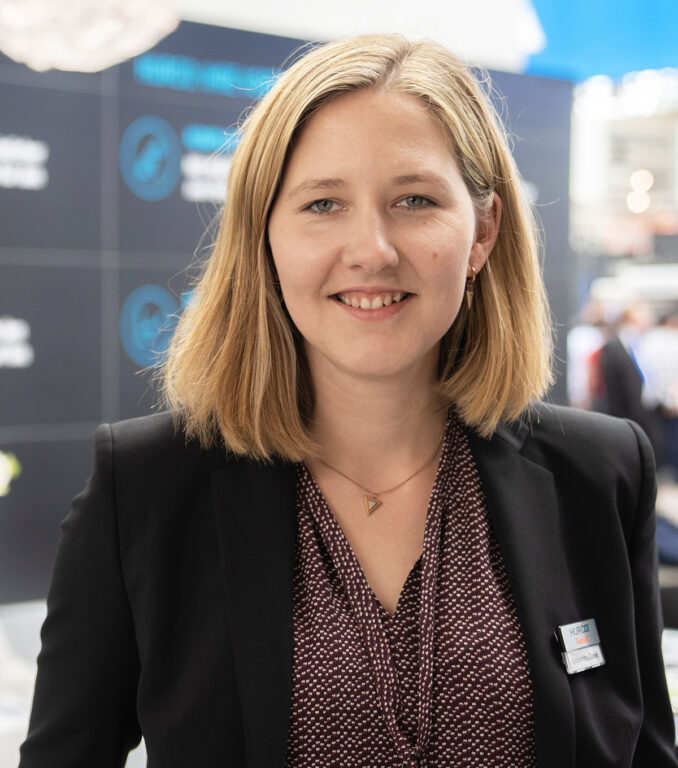 Contact:
HURCO Werkzeugmaschinen GmbH
Alexandra Banek
Gewerbestraße 5 a
85652 Pliening
Phone +49 89 905094 29
abanek@hurco.de
HURCO® CNC control increases profitability – fastest from design to finished part.
HURCO's powerful MAX® 5 CNC control, combined with WINMAX® CNC control software, creates the CNC control with the industry's greatest flexibility and most intuitive operation. More importantly, every feature delivers benefits that are measurable as increased productivity, which in turn leads to increased profitability.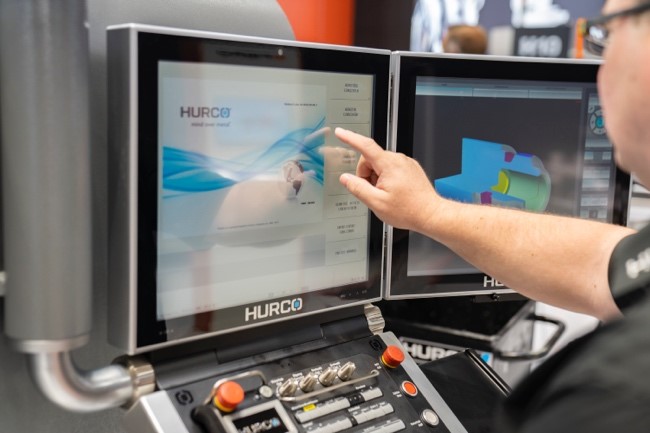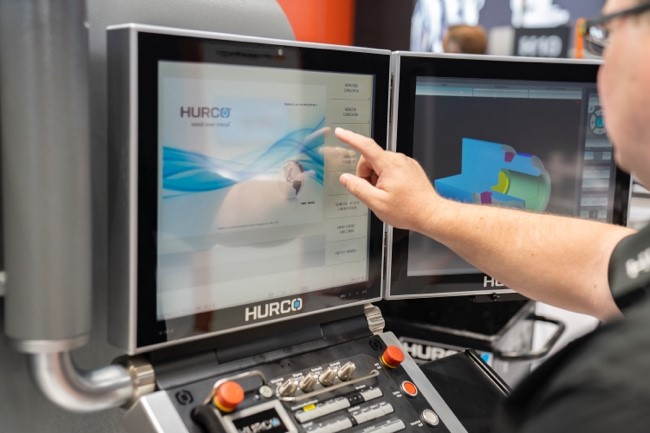 More for less
To get even more out of your HURCO CNC control, and therefore out of your machining center, we offer a number of additional options for a fee.
The list of available options for your HURCO CNC control is diverse!
NC-Dialog-Mix
Tool change optimization
Solid-Model-Import
Ultimotion
3D-Plus
3D-DXF
and many more
Get all options for your HURCO CNC control, at a special price!
Only until 30.04.2021,
Let one of our application engineers advise you.
HURCO-Application Department
E-Mail: awt@hurco.de
Tel:      +49 89 905094 66
Did you already know?

On our Youtube channel you will find a large number of user-oriented tutorials for milling and turning, which, among other things, describe the functionalities of the individual options step by step.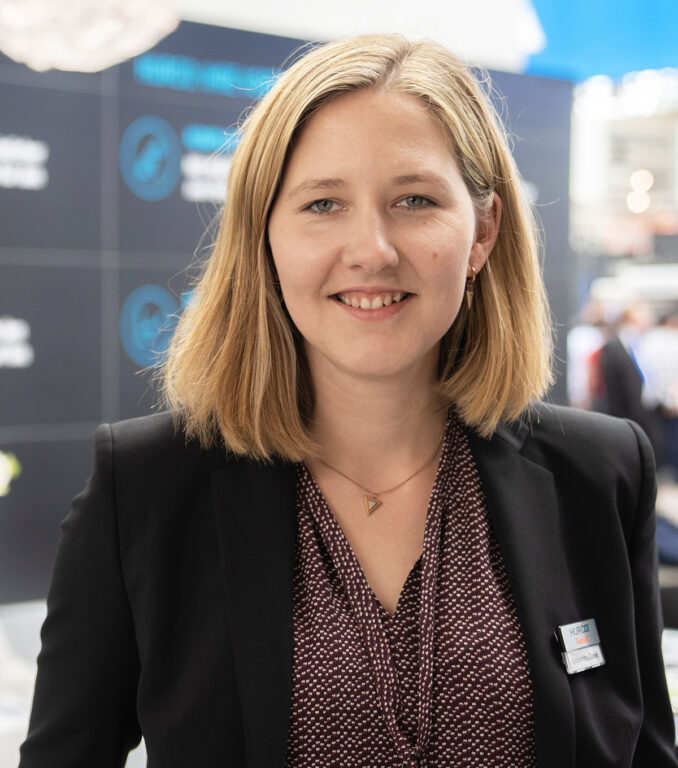 Contact:
HURCO Werkzeugmaschinen GmbH
Alexandra Banek
Gewerbestraße 5 a
85652 Pliening
Phone +49 89 905094 29
abanek@hurco.de
The limited 3-axis campaign from HURCO until the end of october.
1 PARTNER, 2 SPECIALS – and unlimited possibilities
The right investment in the future can now take you a decisive step further.
Prices are available on request.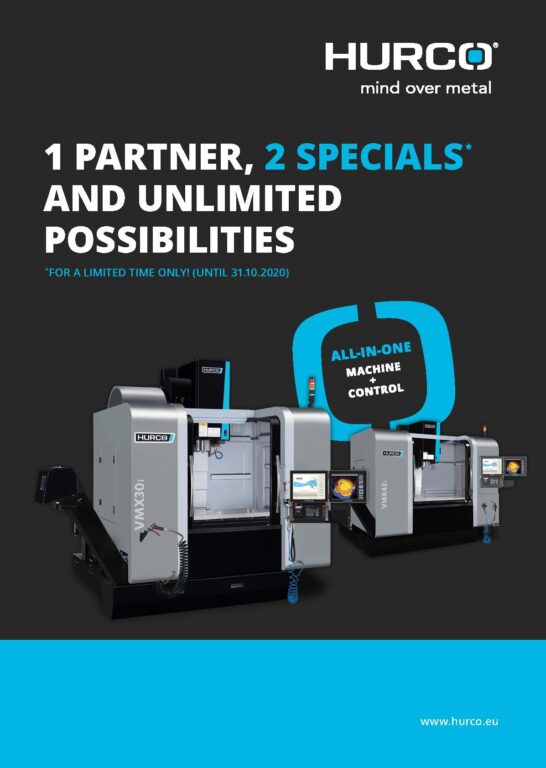 Collaboration between machine tool manufacturer HURCO and suppliers of automated loading systems has resulted in higher productivity and greater returns. Automated loading enables capacity expansion in individual piece and small series production without a need for additional personnel to operate the machines. Loading robots can also be deployed in unmanned shifts or on weekends.
Pliening near Munich, Germany, March 2019: Automation solutions from HURCO offer an opportunity to successfully address the growing lack of specialists, particularly for manufacturing SMEs. Specialists can be deployed for more demanding tasks when robots assume the loading and unloading of CNC machines. This leads to a reduction in unit costs and more efficient deployment of personnel.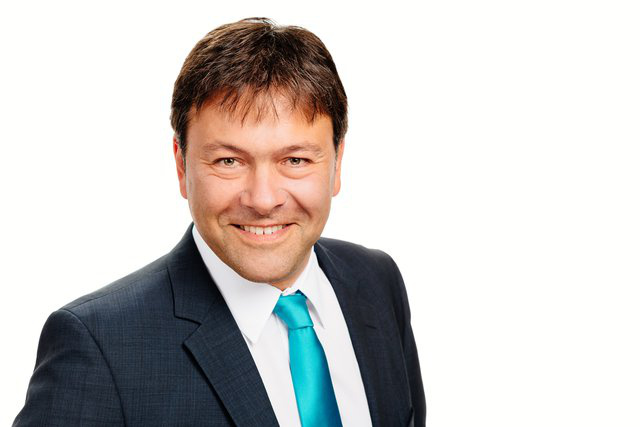 "We are collaborating with various automatic loading system providers", reports Michael Auer, Managing Director of HURCO Germany. "This allows us to satisfy a wide variety of process requirements and enable our customers to enjoy a sustainable path to increased productivity at the same manufacturing quality." In practice this means: HURCO informs its customers about suitable automation solutions on the market, such as EROWA, BMO Automation or ZeroClamp, and supports them during implementation. This can even include using the DNC interface to integrate a machine tool into an existing process control system. Its software thus takes on the organizational tasks and processes production orders via the connected machining centers in accordance with the program.
Possibility of combination with different loading systems
The practical application example respectively shows an EROWA Robot Compact 80 or the BMO Titanium robot operating two CNC machining centers docked to the right and left of loading system. The pieces to be machined are fed into the robot cell on trays.
The robotic arm integrated within the cell positions these one at a time in the HURCO machining center and removes them after completion to deposit them back into trays in the cell. The new Zerobot® loading robot from ZeroClamp additionally replaces tools and grippers in a flexible manner during a manufacturing process. "All that remains for the operator is the programming of the machine tool and the loading of the shelves in the cell," explains Auer. Like many contract manufacturers, Managing Director of MAL Metall- und Anlagenbau Lemke GmbH Peter Lemke sees the automation of individual production steps as the only option for meeting good demand for orders despite a lack of personnel. "We have been wringing our hands for some time now in our search for machining mechanics", is how he describes the situation. "The integration of a loading robot enables us to operate a second or third shift without personnel."
Contact:

HURCO Werkzeugmaschinen GmbH
Imke Blohm
Gewerbestraße 5 a
85652 Pliening
Phone +49 89 905094 28
iblohm@hurco.de
HURCO reliably supports operators in optimizing machining procedures.
Pliening (near Munich), Germany, November 2018: The easy-to-operate Max 5 control system and the solid model import option from HURCO make 5-axis milling easier for operators.
Overall, HURCO offers a service package that helps operators quickly attain production optimization in 5-axis milling, even if they are beginners.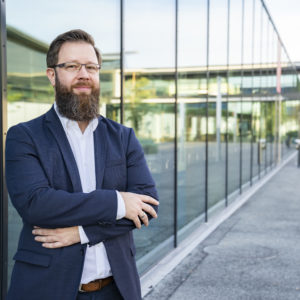 "Operators who want to produce highly complex components on a regular basis should not shy away from investing in a 5-axis machine," recommends Sebastian Herr, Head of Application Engineering at HURCO. "If I have to constantly re-clamp workpieces 4 or 5 times on a 3-axis machine, then it makes sense to use the 5-axis machine from the outset."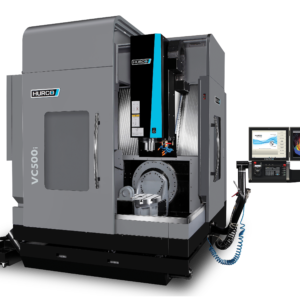 The HURCO VC 500i machining center is a good entry-level model for 5-side machining in single part and small series production. Thanks to easy and fast programming and the traveling column concept, the 5-axis traveling column machine with rotary/swivel table is ideal for a wide range of applications, from contract production to mechanical engineering. As is the case with the 3-axis machine, machining is linear, but is performed simultaneously on several sides. As a result, employees can switch over from 3-axis to 5-axis machining with little additional training.
HURCO 3-axis machines can be upgraded without any issues.
Each HURCO machine is equipped with software that permits 5-axis machining. "If Production occasionally requires more complex parts with more than two or three clamping processes, the most efficient choice is to upgrade an existing 3-axis machine," says Sebastian Herr. A hardware upgrade itself only requires a day, plus one additional day to train employees. However, the machine delivered with 3-axis configuration is not equipped with the corresponding guides and glass scales and, therefore, does not operate quite as accurately. "I can always achieve higher precision when working on a component using a 5-axis machine," adds the Head of HURCO Application Engineering.
Contact: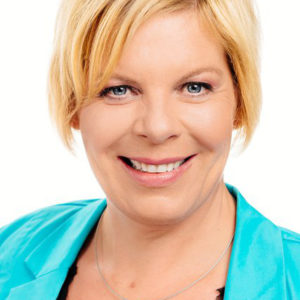 HURCO Werkzeugmaschinen GmbH
Imke Blohm
Gewerbestraße 5 a
D – 85652 Pliening
Phone +49 89 905094 28
iblohm@hurco.de
The built-in swivel head-/rotary table configuration increases flexibility.
Pliening near Munich, Germany, September 2018: machining centers in the SRTi series from mechanical engineers HURCO have been developed specifically for handling heavy precision parts where complex contours need to be machined despite their heavy weight and above-average size.
At the AMB trade fair, for instance, HURCO used the VMX 60 SRTi to exemplify how large travel ranges combined with a swivel-head rotary table configuration effectively extends the production spectrum. This configuration enables horizontal machining and optimal chip control. As the C-axis, the permanently integrated rotary table supports unrestricted angle movement. This is an aspect that shortens machining times and has a positive effect on the cost-effectiveness offered by the machine – as Michael Auer, Managing Director for HURCO GmbH, explains: "If the machine is to circle the workpiece to mill the surface of a cylinder, then the table performs a continuous rotational movement."
Only one clamping process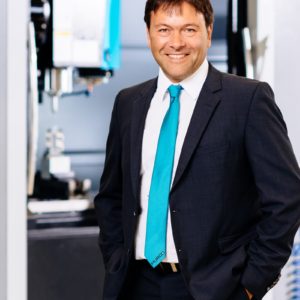 All C-axis rotary tables in the SRTi series are capable of unlimited continuous movement. The B-axis swivel head also provides access to the workpiece on a swiveled machining plane. This is an advantage when machining complex contours, such as impellers or turbines, according to Michael Auer: "Clamping processes cost time. For these frequently requested machining combinations, the time savings from having just one single clamping process, without sacrificing accuracy, is an important competitive advantage in contract manufacturing."
Productivity increases thanks to loading systems.
The opportunity of loading without human intervention by means of automated systems also increases the efficiency of HURCO machines. "We collaborate with providers of various automatic loading systems", explains Michael Auer. "This means we can exactly match a wide variety of customer requirements to achieve a sustainable method for increasing productivity." The result in practice: HURCO coordinates with customers to develop a matching solution consisting of the machining center and a loading robot from one of its partners. This can extend to integration of a machine tool into an existing, digital production system.
The objective of automated loading systems is sustainable capacity expansion, with the proviso that additional personnel are not required for machine operation. HURCO will demonstrate a current, comprehensive integration example at the AMB. This consists of combining the HURCO VMX 60 SRTi and an EROWA Robot Compact 80.
HURCO at the AMB (September 18 – September 22, 2018): Hall 10, Stand D53.
Contact: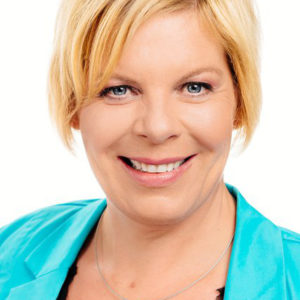 HURCO Werkzeugmaschinen GmbH
Imke Blohm
Gewerbestraße 5 a
D-85652 Pliening
Phone +49 89 905094 28
iblohm@hurco.de
HURCO will be demonstrating how cooperation between a machine tool and a loading robot ensures greater efficiency in production at the EMO 2018. The use of the new Solid Model Import option will also be demonstrated at the trade fair stand, along with HURCO lathes and machining Centers.
Pliening, Munich, Germany, August 2018: HURCO and the specialist for process automation, EROWA, are unveiling a joint solution for the automated loading of machine tools. It integrates HURCO CNC machining centers into an EROWA production system via the DNC interface. Its software thus takes on the organizational tasks and processes production orders via the connected machining centers in accordance with the program. An EROWA Robot Compact 80 executes the automated workpiece changeover. The loading system is suitable for single or double machine operation, and harmonizes perfectly with the HURCO multi-axle machining centers.
Productivity increases thanks to loading systems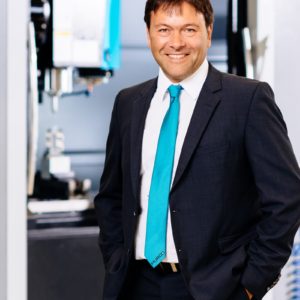 "We are in cooperation with various automatic loading system providers", explains Michael Auer, Managing Director of HURCO Germany. "We can therefore satisfy differing customer requirements and open up a sustainable method for productivity increases for our customers." The automated loading enables, for example, an increase in capacity in single-piece and small series production, without additional personnel costs for operating the machines. HURCO goes one step further in the collaboration with EROWA, because the Flexible Manufacturing Concept of the cooperation partner features a suitable framework for the integration of the HURCO machines into a digital complete system.
The proven digital production system comprising EROWA and HURCO machines will be presented at the AMB 2018. One CNC machining center can be docked on each side of the streamline EROWA Robot Compact 80 respectively. The pieces to be machined are fed into the robot cell on trays. The robotic arm integrated into the cell positions these one at a time in the HURCO machining center and removes the workpieces after completion in order to deposit them back into trays in the cell. The cell is controlled by the EROWA JMS 4.0 ® pro process control system. "All that remains for the operator is the programming of the machine tool and the loading of the shelves in the cell," explains Michael Auer.
Less programming outlay thanks to he Solid Model Import Option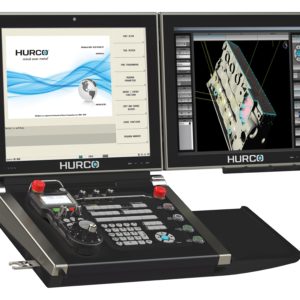 HURCO will be demonstrating just how easy programming with the Solid Model Import option at the AMB 2018 using several machine types as examples: 3D models that are available as STEP files can be imported directly with the new option. The import option interprets the data and enables production programming at the machine. This saves programming time and reduces the potential for errors during programming many times over.
Reliable turning centers with an extended service life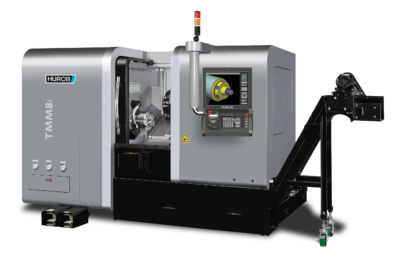 Using the robust TMM8i lathe as an example, HURCO will be presenting its range of multi-axle turning centers for the turning and complete machining of medium-size workpieces at the AMB 2018. With these machines, programming for the operator is also fast and reliable. DXF drawings can be imported easily, and dialog and NC programming can be merged together individually. Driven tools can also be fitted to each revolver tool station, which simplifies the machine setup process.
Perfect surfaces with Takumi machining Centers
HURCO will also be providing information in the H series from Takumi at the trade fair stand. These portal machines are fast, work with exceptional precision and are therefore particularly suited for tool-making and mold-making. Absolute direct measuring systems, direct drives on all axes and electronic temperature compensation come as standard. The machines are equipped with a Heidenhain control system that enables dialog, parallel and free contour programming, as well as ISO-NC programming.
HURCO at the AMB (2018-09-18 to 2018-09-22): Hall 10, Stand D53
Contact: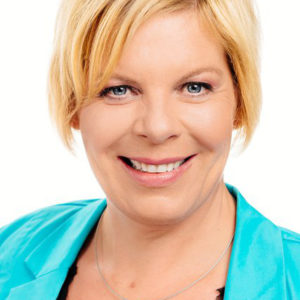 HURCO Werkzeugmaschinen GmbH
Imke Blohm
Gewerbestraße 5 a
D-85652 Pliening
Phone +49 89 905094 28
iblohm@hurco.de
Short processing times and outstanding precision in all machining steps are distinguishing features shared by all HURCO machine tools. With an innovative computer-based control unit, Hurco's story of success began in 1968 in the American state of Indiana.
The fastest route to finished workpieces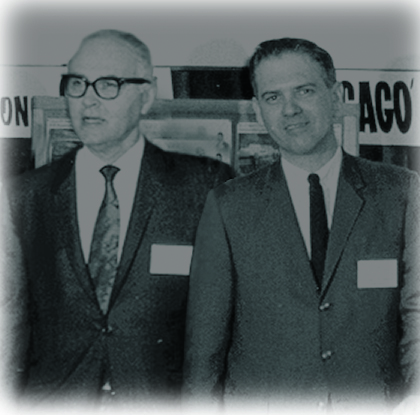 When working in sales for the plant manufacturer Humston Companies, Gerald Roch learned that manual setup and production control meant that work was not really economically viable for one-off part and small series manufacturers in metalworking. The engineer thus came up with the idea of equipping metal bending machines with an automated control system. This may sound like a matter of course for us today, but the concept was completely new at that time. In their early years, computers were only found in public institutions and were very large and expensive.
However, Roch and his business partner Edward Humston believed in this vision, and this prompted them to found HURCO Companies Inc. in 1968
HU forHumston,
R for Roch and
CO for Company.
The world's first automated control for metal bending machines was called "Autobend". HURCO had already begun selling the control unit by 1969, with the required starting capital being provided by 21 private shareholders. However, it would be 10 years later before the innovative component finally had its commercial breakthrough.
Roch worked continually on improving Autobend. With the CNC 2-axis control, the desired bending angle and length of the tool could now be stipulated in the programming. Autobend also received innovative installation assistance, which enabled users to install the program themselves. The operators at the machines thus regained control over the production process.
HURCO a technological leader for 50 years
This basic idea of Gerald Roch was consistently pursued by HURCO: enhancing the profitability of workshop production – particularly in one-off part and small series production – by reducing setup and programming times. By 1974, the technology leader had already launched the first CNC-controlled milling machine on the market, an innovation that would go on to become the heart of the company's portfolio. Two years later, in 1976, HURCO presented the first version of dialog programming. This "conversational programming" was regarded as a major step towards further technology development. 1979 saw more than 30 percent of the company's revenues being generated outside the US. For the production of control elements, more and more of HURCO's own machines were being used.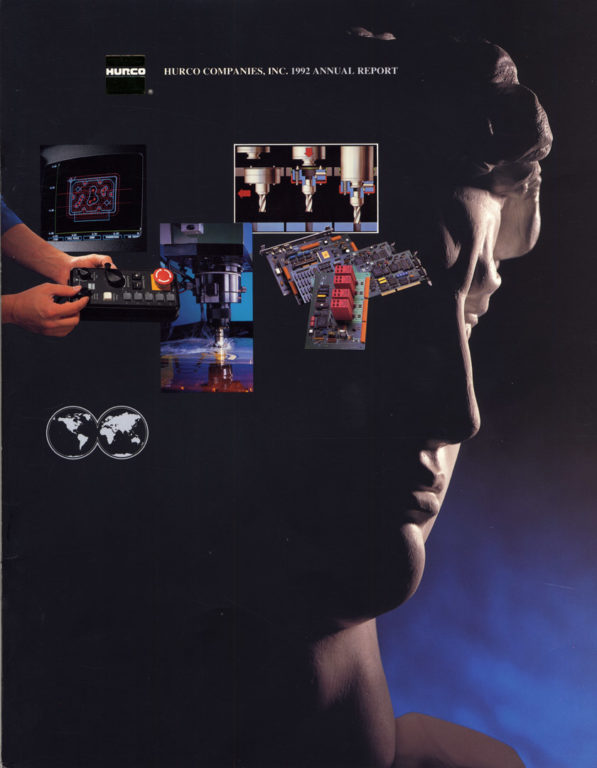 HURCO presented the first CNC 3-axis machine in 1986 and its first 5-axis gantry-type machining centre in 2003. Company acquisitions and collaborative ventures meant that HURCO's market presence grew in Europe also. The industrial nation of Germany was given a key role:
from 1988 onwards, HURCO GmbH Deutschland in Pliening near Munich took over sales and customer service for all of Europe.
From the very beginning, HURCO not only constantly invested in new products, but principally in the further development of existing ones. The company employs a large contingent of own engineers, mechanics and IT specialists. In 1984, the dual screen Ultimax further simplified programming steps, and this was followed by the market launch of the control system Vmax in 1997, the WinMax Desktop in 2000 and the WinMax software in 2006. "The CNC machines offered by HURCO are continuously being adapted to meet changing customer requirements. Workpieces are becoming more complex and sophisticated. We are combining new requirements with the capability of the CNC controller," explains Michael Auer, Managing Director of HURCO Deutschland. "We have lean processes at HURCO, and these enable fast implementation."
Customers choose HURCO for more productivity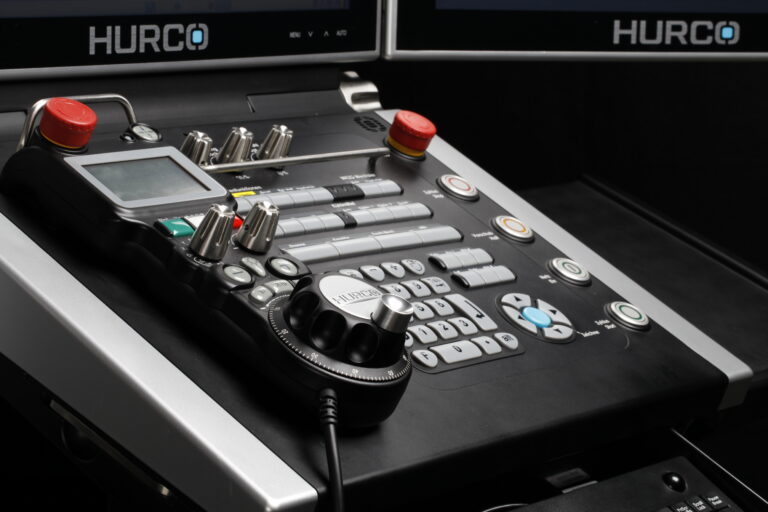 When asked "What do you like about HURCO?", 65 percent of respondents said the capability of the controller first and foremost. "Even employees without specific programming know-how can be quickly trained. It takes no more than two days for users to be trained to use the HURCOs," explains Auer. This is also a central component of HURCO's success concept: an extensive training and service programme ensures collaboration based on partnership. And this allows HURCO to learn a lot of about special customer requirements and future trends.
"Never accept the status quo" is Gerald Roch's motto. The company has registered more than 60 patents, all thanks to its pioneering spirit. Speaking about himself, the HURCO co-founder says that he was lucky to see how things should work and to always have competent employees by his side.
Contact: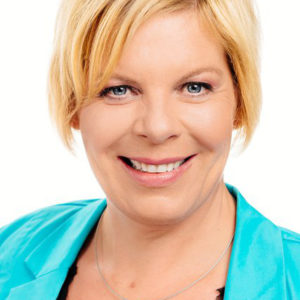 HURCO Werkzeugmaschinen GmbH
Imke Blohm
Gewerbestraße 5 a
D-85652 Pliening
Phone +49 89 905094 28
iblohm@hurco.de
Reduce programming time, avoid programming errors
Solid-Model-Import-Option greatly simplifies 5-side machining.  
Increased profitability through fast programming
Pliening, March 2018: Solid model import option simplifies programming for HURCO machines
Programming on 5-axis machines from HURCO can be performed easily and quickly. New and less specially-trained employees can be trained in a short period of time.
The new "solid model import" option further reduces the steps. Machine tool manufacturer HURCO has enabled connection of its machines to a solid model import.
The programming time is reduced and simplified through simple data importing in the STEP 3D model format. The import option interprets the data and makes production programming directly at the machine possible. The path from workpiece to component becomes more secure as well. The potential for error during programming is reduced many times over, partly because the machining simulation of the written program is shown together with the solid model in a single view. Thus, users can immediately see if the programming matches the finished component and can refinish this component if necessary.
Increased profitability through fast programming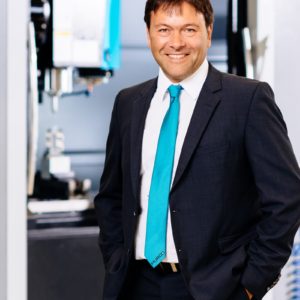 HURCO machines are equipped with the intuitively operable "Max5" conversational control system. "Our control system is an absolute highlight and unique feature of ours", Michael Auer, Managing Director of HURCO GmbH, emphasizes. "It is the fastest in the industry and vastly increases the machine's efficiency." DXF files can be directly imported into the CNC control system. Drawings or sketches are imported quickly into a finished program, which contributes to increased profitability in prototype, single piece and small series production.