Automation partner for contract manufacturers
HURCO knows how to create bespoke metal-cutting and machining concepts, and the machine tool manufacturer will be demonstrating its implementation expertise yet again at METAV 2022 in Düsseldorf. From June 21 to 24, the focus will be fixed on manufacturers of one-off parts and limited production series, with advice on application-oriented solutions available at Stand A10 in Hall 16.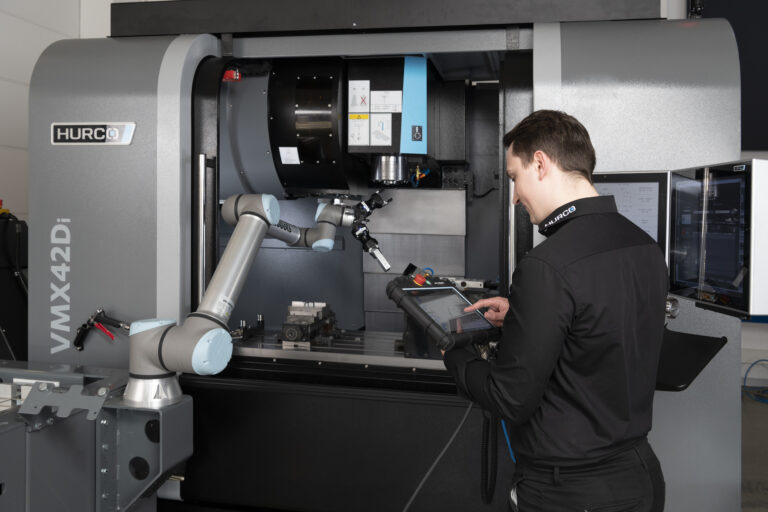 Pliening, May 2022: Machine tool automation is a top-priority item on the agenda of contract manufacturers devoted to limited and medium-sized production runs. The salient considerations extend from extending machine operating times to ways of compensating for scarce personnel resources. The trend toward individualized products and smaller batch sizes is proceeding at a lightning pace, but automated processes to meet the challenge are often already available. The choice of which solution to select is defined by the specific manufacturing job and the available infrastructure. When it comes to automation, there are no universally applicable rules, which is why consultations are so important. Another reason why HURCO places such priority on direct personal contact with its customers.
"Both our sales and support staff, as well as our applications technicians, can frequently be found in consultations at the customer's premises. Based on the machine inventory and the on-site production structure, we determine precisely where we can provide support, and what kind of automation makes sense," emphasizes Sebastian Herr, Application Support Manager at HURCO of Germany. "These consultations are just one of the focal points defining our presence at the exhibition in Düsseldorf."
Structure-based automation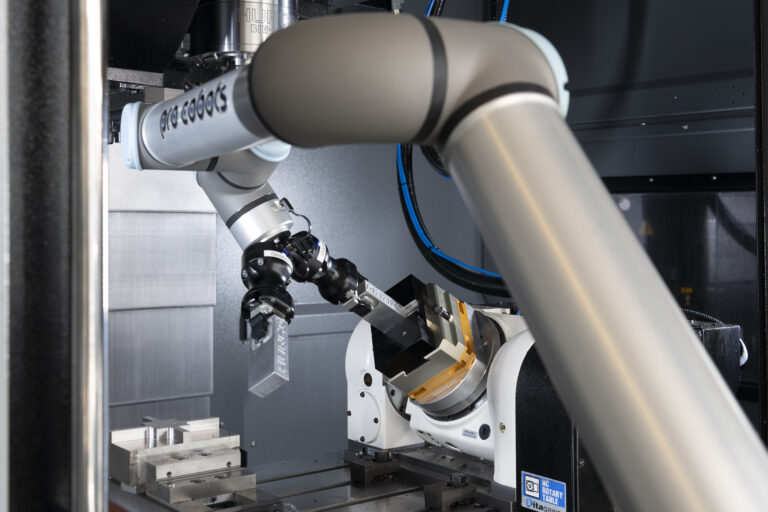 HURCO cooperates with its partners to offer to users exactly the right automation solution. "This expands our spectrum and makes us extremely flexible," notes Herr. "Ultimately, the market already offers tried-and-tested solutions, and we integrate these in our own projects." One of the options that HURCO offers contract manufacturers for their stand-alone machines is automated loading. While this includes a part-handling system to put the parts in the machine, automated loading of two interlinked machines is also available. "Often, cobots represent a good start in automation. These are fast, teachable, flexible systems that work together with the operator." Users have the opportunity to clarify this technology's suitability for their own operations at the HURCO stand, where they can also discuss whether an articulated-arm robot should take over part-handling chores in a manufacturing cell. HURCO responds to complex challenges with custom-tailored solutions for loading and pallet handling – tasks that can be combined on almost all HURCO machines.
Individual is standard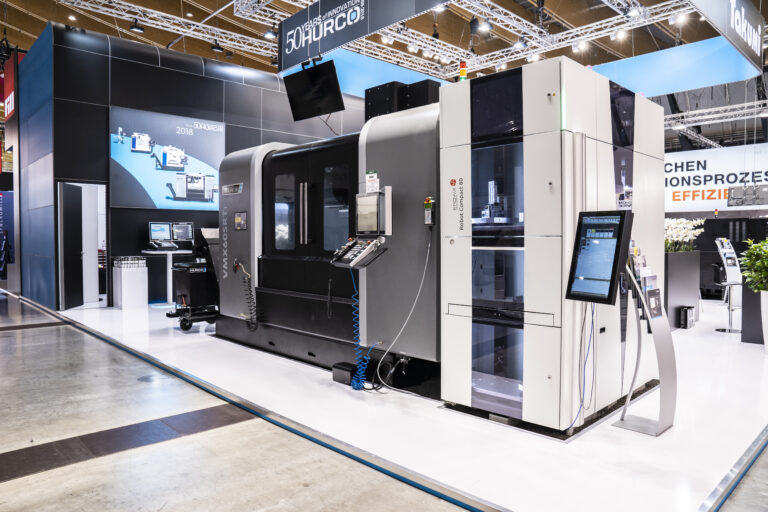 The foundations for rapid and application-oriented implementation of automation solutions, including digitalization, monitoring and evaluation, are contributed by a Windows-based operating system and the MT Connect open-source interface featured on HURCO assemblies. Network-supported DNC interfaces can be employed for mutual communications between machines and robots. "This network and interface architecture supports individual adaptation of automated systems to reflect user requirements, as well as creation of integrated production systems and blockchain solutions between the contract manufacturers and their clients," underlines Herr, who also promises the in-depth consultations to support the process. The organizational tasks for automated manufacturing are then assumed by a project-management system developed by HURCO, or a system that incorporates the automation solution of an appropriate partner.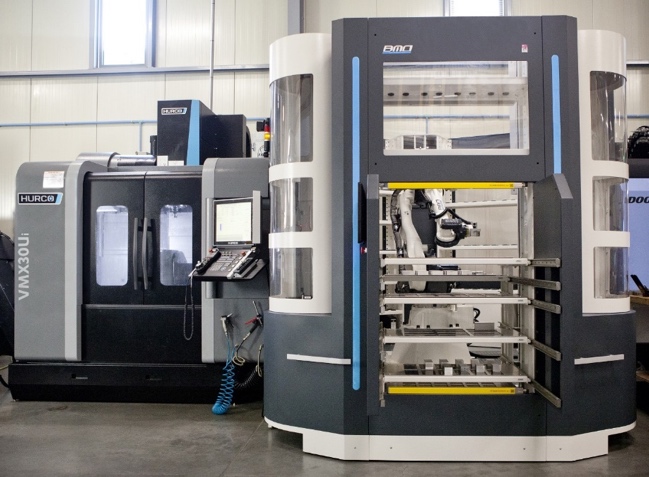 At METAV, users can also discuss how to select the most suitable concept with HURCO specialists, along with implementation of a specific automation solution in a process that even embraces optimization during running production operations. "We are looking forward to technical discussions in Düsseldorf," concludes Herr.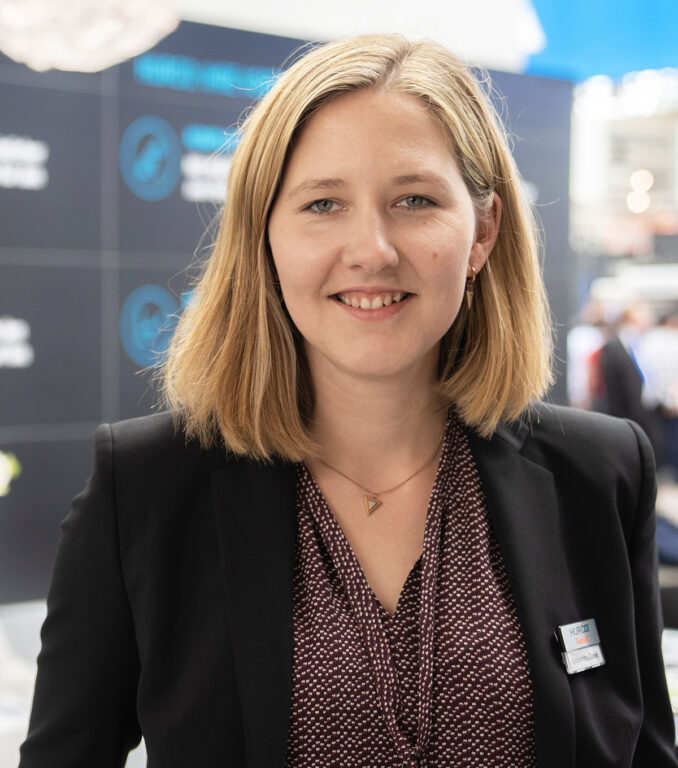 Kontakt:
HURCO Werkzeugmaschinen GmbH
Alexandra Banek
Gewerbestraße 5 a
85652 Pliening
Phone +49 89 905094 29
abanek@hurco.de
Blog article
HURCO introduces yet another market innovation by offering you the option of program-ming free-form surfaces directly at the machine. This feature lets contract manufacturers take on jobs that were previously too time-intensive or unprofitable by allowing them to dispense with the detour through a separate CAD/CAM system.
Pliening, Germany, March 2022:
Greetings to my friends in the machining world. My name is Sebastian Herr and I manage Applications Technology at HURCO.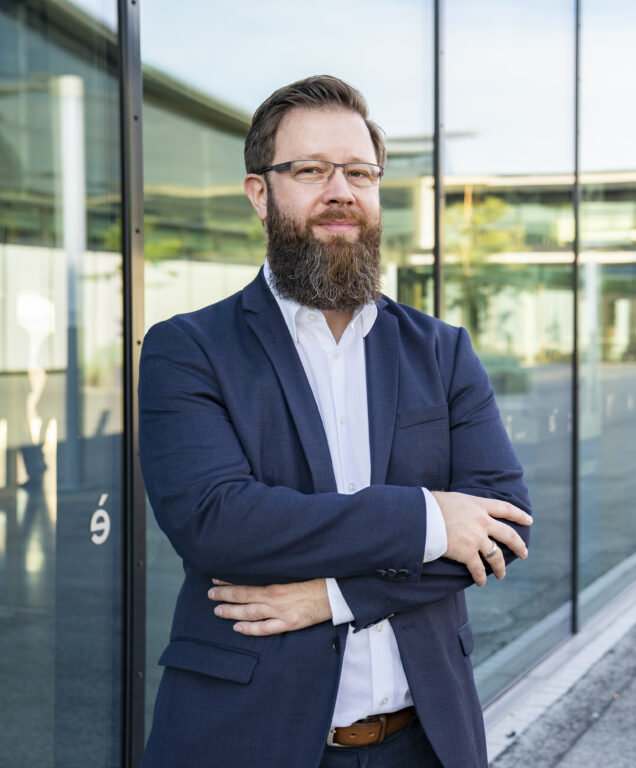 I want to use this article to acquaint you with a new function incorporated in our HURCO control software. I will start by focusing on the option of programming free-form surfaces right at the machine.
As many of you know, HURCO control software has already accommodated those of you wanting to read in 3D models directly using the STEP format for some time now. This "Solid Model Import" feature not only substantially reduces programming times but also provides protection against programming errors.
The new function is an extension of the existing "Solid Model Import" option. Where surfaces and solid edges of a CAD model were previously selected, you can now program 3D surfaces directly at the machine as free-form surfaces. This level of latitude is underpinned by the Solid Model Import because the scans of STEP component surface geometry form the foundation for subsequent processing.
Programming 3D surfaces
You start the process of generating the required data sets right at the machine in the usual way by loading the desired component into the HURCO control. The HURCO machine's touchscreen is used to program the previously imported data. The STEP file representing the various surfaces appears on the screen at the right. These can then be selected to generate associated data sets suitable for saving to support individual machining processes. The data sets embrace the entire array of additional commands, such as pivoting to new processing planes. A new feature is the "Surface" command that is now incorporated in the control system. Using this new functionality, even free-form surfaces can be converted into data sets for machining. WinMax supports this ability by generating a data set created specifically for the individual machining process. All the operator needs to do is enter the tool and the process parameters. The control system performs all of the calculations to define tool paths for the ensuing roughing and final finishing operations. Needless to say, this also applies to the subsequent pivot planes when you program multilateral machining.
Here are a couple of explanatory images to help illustrate the concept.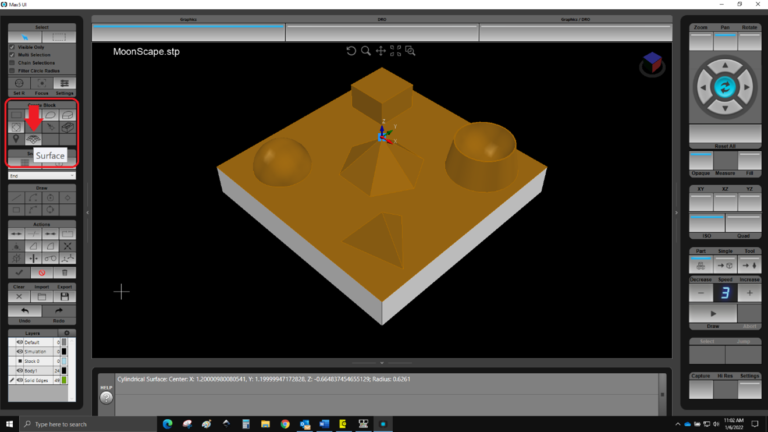 The first step requires selection of the surface to be machined. You then simply select the "Surface" data set – meaning the data set for the surfaces – from the option menu of the left.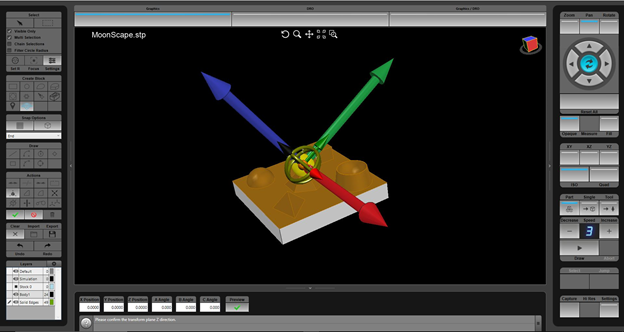 The surface can then be machined with the applied tool. Precisely what you need for this machining operation.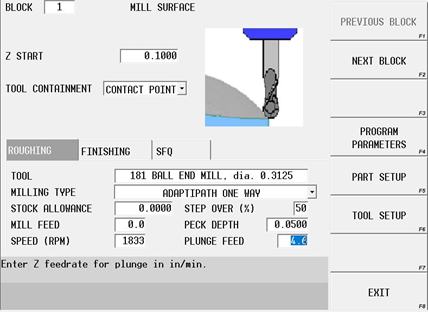 The control system then generates a data set for the selected surface, after which all you have to do is enter the tool and the technology data. Then simply specify the optimal strategies for roughing and finishing and away you go. It goes without saying that finishing operations, including the required allowances, can be repeated as often as desired. Over and again until the desired surface has been machined to perfection.
By the way, the newer HURCO machines are equipped with a Multi-Touch display similar to that found on smartphones. You therefore only need two fingers to zoom in and out or twist and turn the part. This speeds up programming and makes it more convenient.
For those of you wanting to expand their knowledge of the Solid Model Import option, please proceed to our Tutorial.
Tool and milling cycles
For machining free-form surfaces, I recommend that you specify a spherical or torus cutter. Both are well-suited for use in machining 3D surfaces as they allow sequential, single-step changes in workpiece contact area. You can also employ the torus cutter to machine flat surfaces. The HURCO program database includes a multiplicity of standard tools of the kind essential for 3D machining operations. There is also an extensive array of machining cycles. The program calculates all of the necessary processing steps based on surface geometry.
Advantages of the expanded Solid Model Import function
What we all see: The complexity of machined parts is increasing. CAD/CAM systems for discharging programming duties are virtually indispensable. The new 3D capability may well save you the procurement cost of a complex CAM system, or the expense of commissioning a CAD/CAM service provider to generate the required models. In view of progressively shrinking delivery times this can be a genuine asset. It allows direct calculation and processing of job orders. Which saves both time and money. If a firm already has its own existing CAD/CAM station, Solid Model Import will free it up for use in processing other 3D parts.
Some of the HURCO machines purchased in recent years can be retrofitted with a software upgrade to support programming of free-form surfaces. With older machines you will have to consider whether investing in the upgrade would be justified.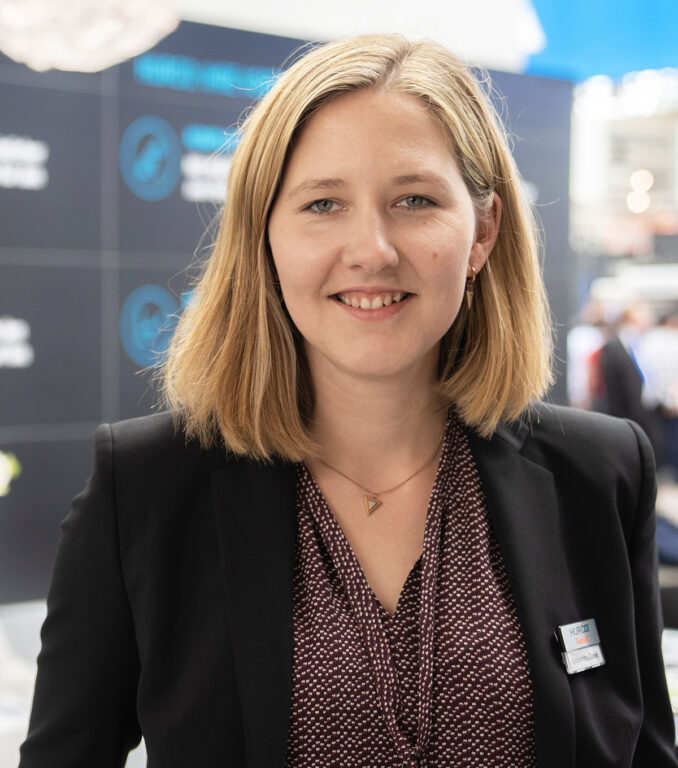 Contact:
HURCO Werkzeugmaschinen GmbH
Alexandra Banek
Gewerbestraße 5 a
85652 Pliening
Phone +49 89 905094 29
abanek@hurco.de
HURCO "Multi axes" series has been revised
HURCO has revised the turning centers of the "Multi axes" series. Designed for the turning and milling of medium-sized parts, the machines have been further developed, particularly with regard to the software.
Pliening, Germany, November 2021: The software bundle of the series now also includes Solid Model Import, which makes the models equal to the software status of the HURCO milling machines: same operating concept, same terminology, same features. This is of particular benefit to contract manufacturers who flexibly machine individual parts and small batches and carry out the milling work on a suitably equipped lathe. At the same time, they can quickly switch between their machines without having to make any changes to the control.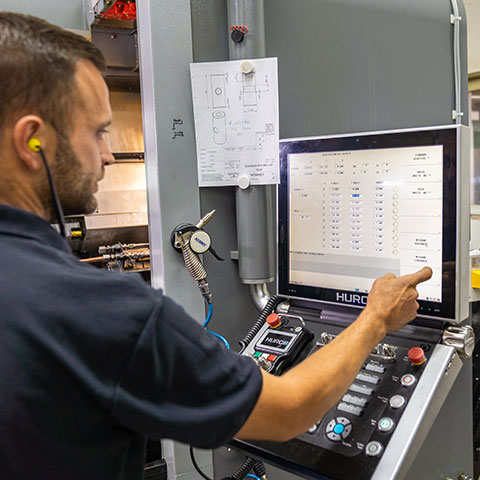 "With the lathe series, HURCO strategically rounds off its overall program," classifies Sebastian Herr, Head of Application Technology. "Users do not have to use an additional control in their company with this. Those who appreciate the dialog control with the DXF and solid model import options on their milling machine are also right with the lathes."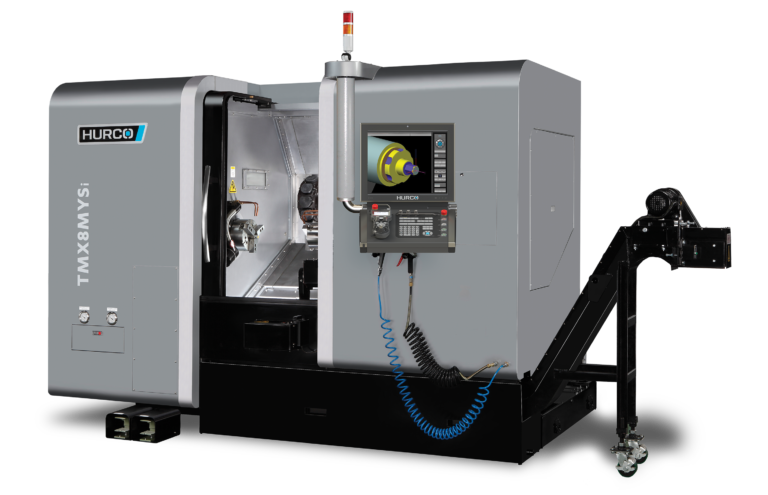 The "multi-axis" series comprises seven versions which – fully equipped – are supplied "ready to produce". Depending on requirements, the user can fall back on more complex versions with turrets, driven tools and additional Y and W axes and specifically expand the machining spectrum. For example, a pocket with a straight bottom can be machined on a cylinder surface using the Y-axis; the TMX version with counter spindle can machine the front and rear sides. If, for example, flanges and pipe connectors are manufactured with the multi-axis turning centers, the applications of the TMX series extend to complex machine components.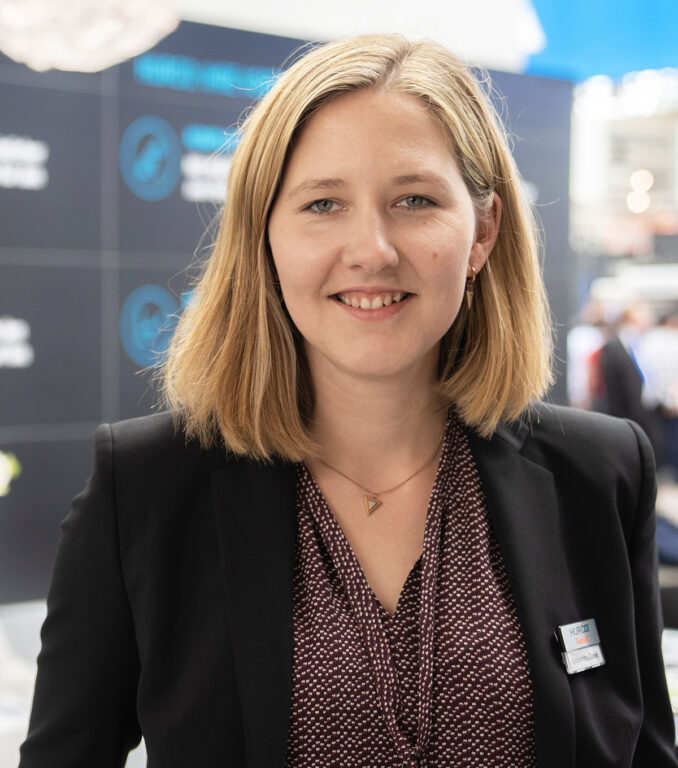 Contact:
HURCO Werkzeugmaschinen GmbH
Alexandra Banek
Gewerbestraße 5 a
85652 Pliening
Phone +49 89 905094 29
abanek@hurco.de
Flexible workpiece handling for larger components
The 5-axis machining center VCX600i XP is a completely newly developed machine whose design was based on HURCO's entire 5-axis know-how. The machine thus offers sustainable increases in performance, stability and accuracy compared to the previous 5-axis models.
Pliening, Germany, July 2021: The VCX600i XP is aimed at users who work exclusively in the 5-axis range and primarily manufacture medium-sized parts. For this purpose, the SK-40 spindle can access performance data of up to 16 kW, 102 Nm and 12,000 min-1; there is space for 40 tools in the tool magazine. With a separately opening roof for crane loading, the workpiece handling of larger components is flexibly designed.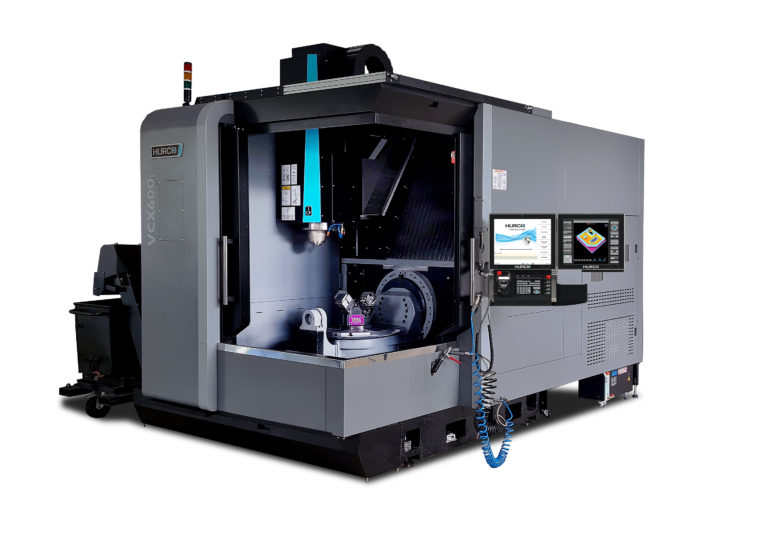 At the same time, the machine was designed to be very massive. Equipped with a rotary-swivel table and a moving column behind it, the VCX600i XP moves fewer axes in the compound, which increases accuracy mechanically alone. The swivel bridge is recessed in the bed and does not move in space, which has a positive effect with increasing component size or mass. The bridge and swivel table are equipped with torque drives, making them 100 percent 5-axis simultaneous capable – highly dynamic even in continuous operation.
Sebastian Herr, Head of Application Engineering at HURCO: "With the VCX600i XP, we are starting from pole position in the 5-axis machining center sector. It is designed for high-precision and -dynamic machining. In this way, we are taking into account the fact that increasingly complex and precise components have to be manufactured."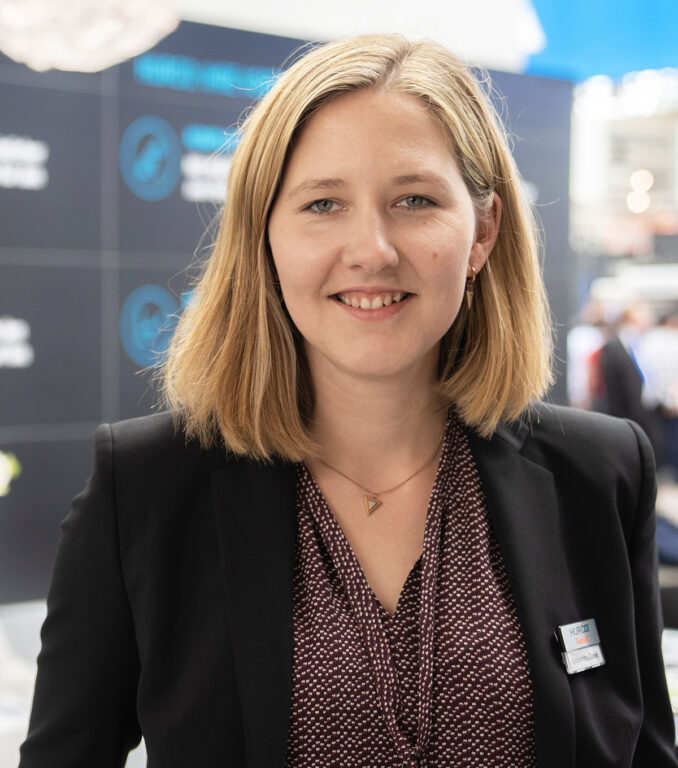 Contact:
HURCO Werkzeugmaschinen GmbH
Alexandra Banek
Gewerbestraße 5 a
85652 Pliening
Phone +49 89 905094 29
abanek@hurco.de
The myriad is complete
Hurco GmbH has delivered its 10,000th machine in Germany with the sale of a 3-axis machining center.
Pliening, Germany, August 2021: With the sale of a "VM 30 i Plus" to the Martin Braun engineering office, HURCO has brought its 10,000th machine to the user in Germany. The 3-axis machining center, which has a clamping surface of 1,321 x 508 mm and a maximum
table load of 1,800 kg combined with a 15 kW spindle up to 12,000 min- 1, an SK40 interface and a tool changer with 24 places, is now machining in Enkenbach-Alsenborn near Kaiserslautern.
"We are very pleased about the sale of the 10,000th machine, as this is an expression of the appreciation of the German market and its special significance for HURCO," says Michael Auer, Managing Director Hurco GmbH. "We are particularly happy for owner Martin Braun, who has been a convinced HURCO machine user for years."
Machine parks with HURCO machines
Half of the machinery in Enkenbach-Alsenborn, which currently comprises 14 machining centers, consists of HURCO machines. Production is primarily for mechanical engineering, with the 3- and 5-axis centers characterized by flexibility, machining width and convenient operation. Why does Martin Braun always choose a HURCO machine? He finds, "The machines offer a competitive advantage, and the control is ideal for us."
Read the full story here.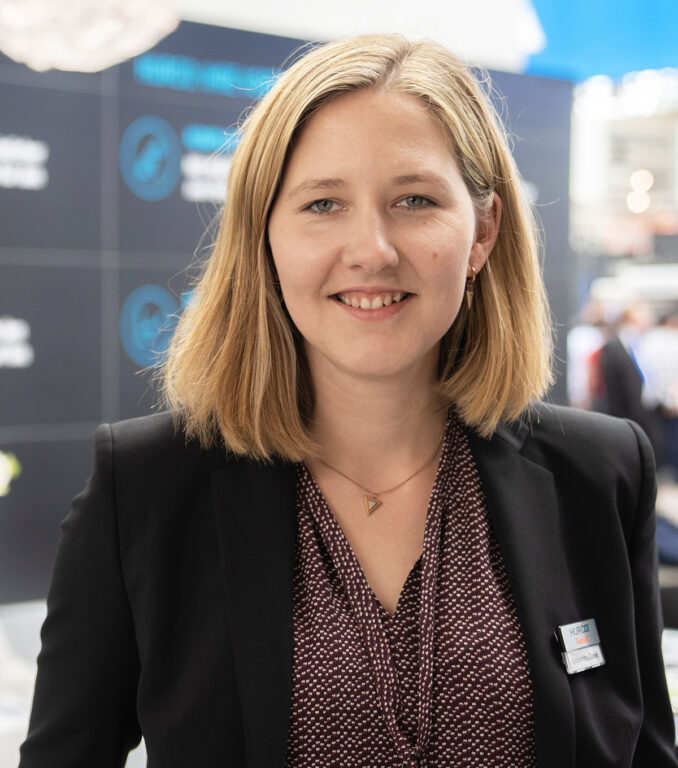 Contact:
HURCO Werkzeugmaschinen GmbH
Alexandra Banek
Gewerbestraße 5 a
85652 Pliening
Phone +49 89 905094 29
abanek@hurco.de
Demanding applications with high cutting performance and flexibility
The "VMX50Di" 3-axis machining center is designed for demanding applications with high cutting performance and flexibility. Based on our success factors of the smaller 3-axis models, the new development for this takes the "VMX 50i" as its basis. It is designed for machining aluminum as well as for small-part machining and the production of filigree contours on larger parts.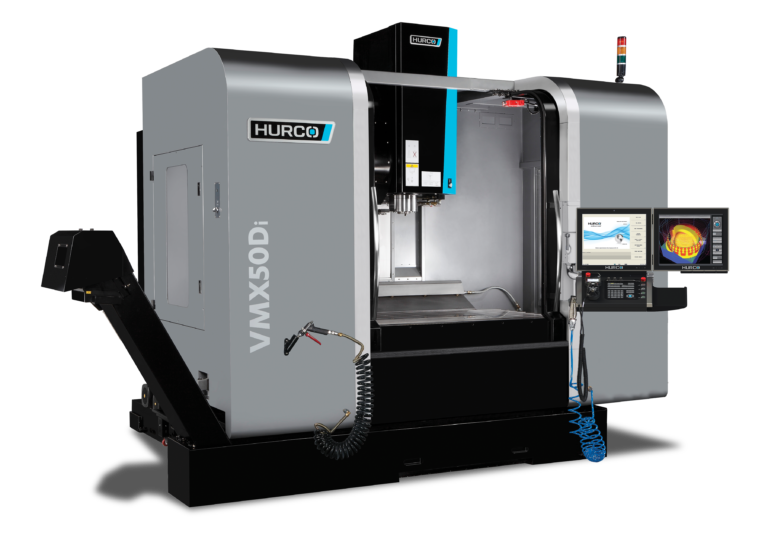 Pliening, Germany, September 2021: The main difference to the established series is, on the one hand, the significantly faster spindle, which is also even more dynamic during startup and braking: It thus provides a power of up to 22 kW and a torque of up to 140 Nm at a maximum speed of 15,000 min-1.
The target group for the VMX 50 Di is contract manufacturers in the single-part and small-batch sectors who typically require higher speeds for their machining operations. Here, the VMX 50 Di is designed for machining aluminum as well as for small-part machining and the production of filigree contours on larger parts. Tools with small diameters can be used particularly efficiently, ideally at high speeds.
Sebastian Herr, Head of Application Technology at HURCO: "Tools with steep taper SK 40 and SK 50 are widely used by our customers. In the contract manufacturing sector, for example, the SK 40 take-up is the benchmark. The VMX 50 Di is perfectly matched to this, as it is equipped with this mount as standard."
More Information:
https://www.hurco.eu/products/3-axis-machining-centers/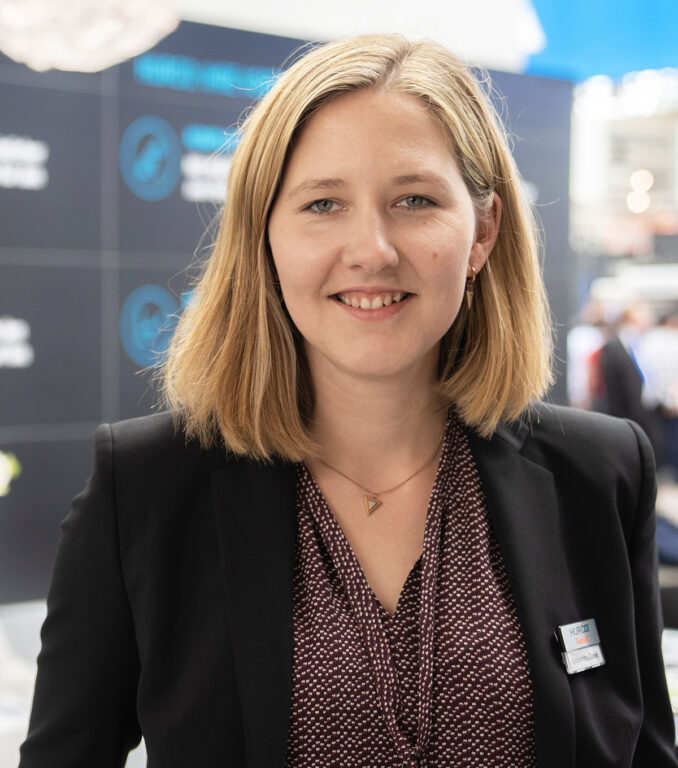 Contact:
HURCO Werkzeugmaschinen GmbH
Alexandra Banek
Gewerbestraße 5 a
85652 Pliening
Phone +49 89 905094 29
abanek@hurco.de
Blog post
Greetings to all of our friends engaged in manufacturing with clamping systems,
my name is Sebastian Herr. I am HURCO's Director of Application Technology.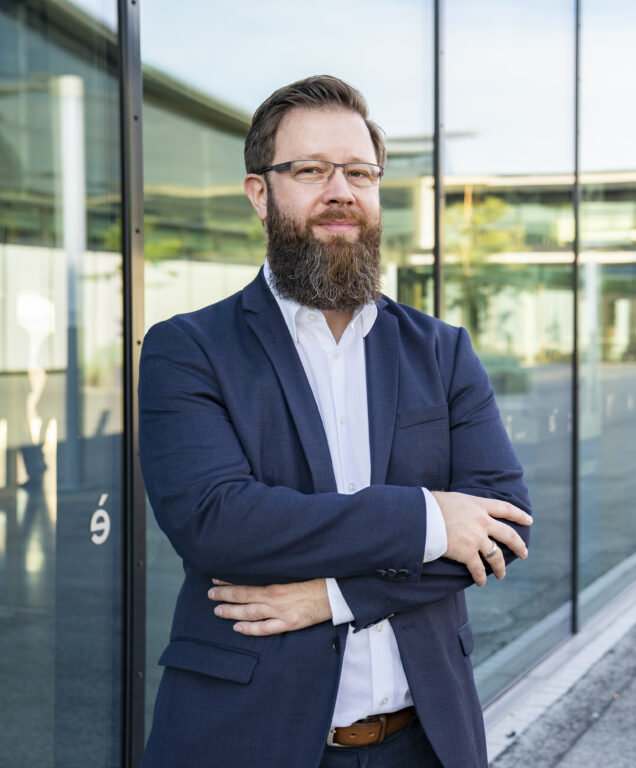 In the following posting, I will be furnishing you with additional information regarding our "Milling a connecting rod" video.
This video shows you the process employed to produce a stainless-steel connecting rod using 5-axis machining. This example clearly demonstrates that processing with trochoidal milling using the HURCO control system is the absolute equal of procedures using the CAM systems as employed by our associated firms. The basic concept remains the same: The tool executes a rotary motion as it proceeds into the workpiece in a penetration process that continues until it is completely immersed and thus able to mill across the entire length of the cutting tool. Throughout the entire processing cycle, the motion pattern is continuously adapted to maintain an invariable and consistent clamping center.
Trochoidal pocket milling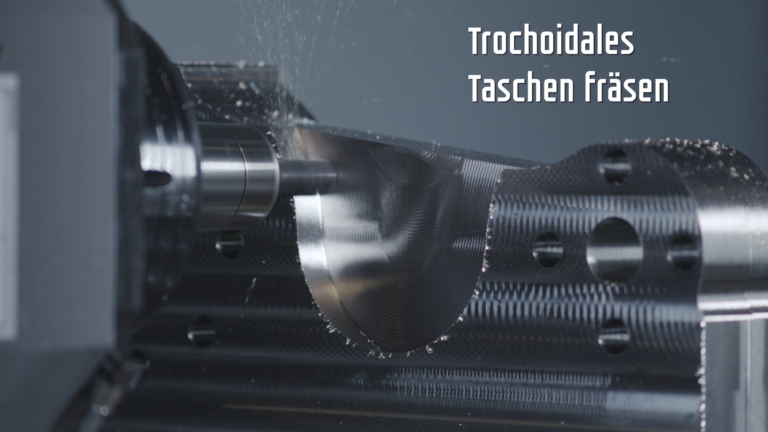 The connecting-rod processing operation that you now have the opportunity to witness is an impressive number. We programmed the pocket milling using TopSolid, which has also been incorporated in our dialog programming. With the HURCO system, the process flows with such seamless smoothness that the simulation displays no detectable difference. The procedures for tool installation and machine set-up also remain absolutely identical, while the program proceeds with no pauses or interruptions of any kind. This unites two technologies in a closely knit combination: HURCO contributes the foundational dialog programming while the CAM builds upon this basis with the DIN-ISO code.
I really want to emphasize that the NC programs are fully integrated in the control system's programmed conversational operating concept. We didn't make the decision to apply the CAM system because we had to; we use it because it works! And above all, because it represents the ideal answer to the typical quotidian conditions encountered in contract manufacturing. These environments frequently encompass multiple machines and operators, but just one or two CAM work stations. Under these conditions, a control system offering immense flexibility is an extremely welcome addition. An essential asset is how this system allows programmers to integrate programs stemming from a variety of sources. The only required qualification is a solid background in machining and metal cutting. When we compare the systems, all that the HURCO operator needs is some basic training in the realm of conversational control systems, while the competitors' systems demand extensive expertise, available only at the cost of considerable time and expenditure.
Automated pallet loading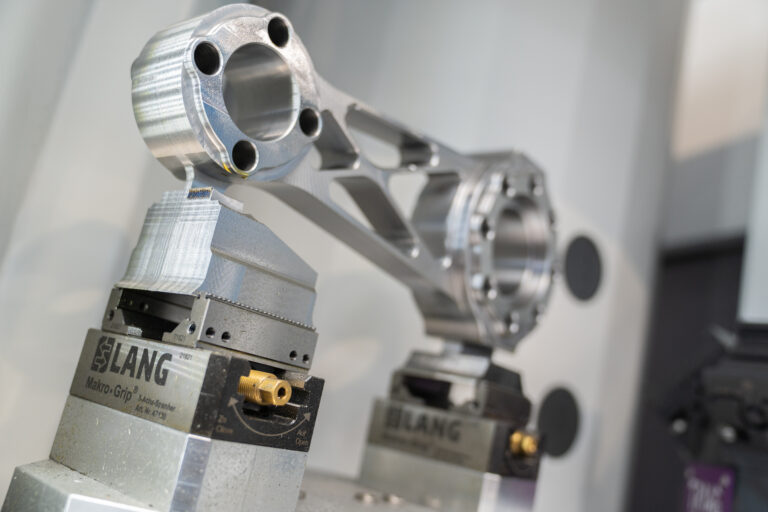 Now I would like to draw your attention to several special features related to the actual machining process. Right at the outset, we focus on the topic of "automation" by showing you the pallet-loading process. In addition to our own in-house products, we also offer solutions for both component and pallet loading contributed by our close associates at ROBOJOB and EROWA. The present scenario focuses on a solution provided by EROWA. At the same time, we remain open to any and all viable automation concepts that might be needed to meet your own specific requirements.
We commence by showing you heavy stainless-steel blocks weighing in at roughly 60 kg, or just over 130 lbs., on two small clamping modules (each 75 mm in width) sourced from LANG TECHNIK. In the interests of achieving secure clamping, the casting has been endowed with an indentation approximately one millimeter in depth and 125 millimeters wide at its lower edge. The casting is processed using a hydraulic mechanism that presses the clamping module's teeth into the block. The clamping process thus produces a tight positive fit providing immense retaining forces while relying on relatively modest clamping force. This contributes an array of assets of considerable value in the machining and metal-cutting process. It allows the clamping system to serve as a cushioning assembly, resulting in a substantially smoother machining operations. At the end of the day, this means that the connecting rod can be machined at relatively constant load factors combined with a high level of machining performance – in a secured process, despite the high superstructure.
Simulation of unfinished and finished parts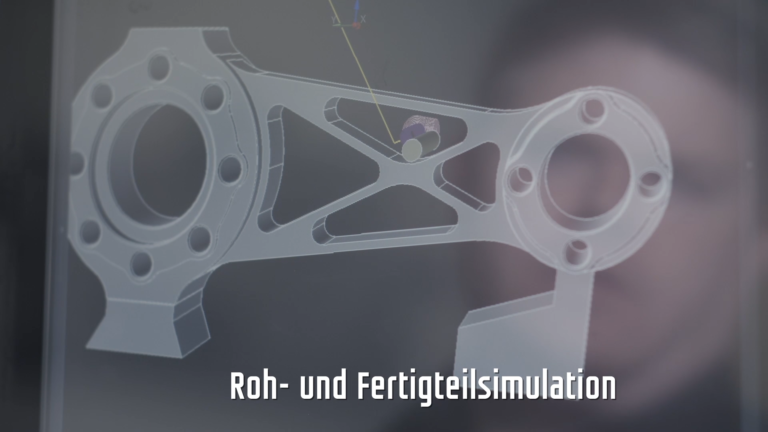 At this juncture, I would like to call particular attention to the simulations of the raw casting and finished part along with the ability to import 3D solid models from the CAD to the control system. This feature is made possible by the "Solid Model Import" option. Starting at second 10, you will be able to see the solid model for the processed part as well as the superimposed casting upon which the machining operation as defined in the control system is simulated. This allows you to check to ensure that everything is proceeding according to plan at this point. From second 39 onward, you receive a clear simulation of the raw casting and machined part, allowing you to monitor the machining path and the rate of metal removal. You can easily view the machine's current motion patterns along with the depth at which the milling tool is currently operating within the workpiece.
This connecting-rod machining process thus illustrates multiple facets of our approach: The ease with which a DIN/ISO subprogram can be incorporated in the dialog programming as well as the flawless flow of the processing simulation – all in a single cycle. Also apparent is the smooth functionality displayed during execution of potentially difficult metal-cutting operations on stainless steel. The special clamping mechanism ensures minimal vibration. The foundation is furnished by an adaptive milling strategy that can be utilized to full potential thanks to the machine's vibration-damping properties. In addition, the casting webs to which the connecting rods are attached can be machined so thinly that they can simply be broken off once the machining process has been completed. It is now possible to grind off the burr, at which the connecting rod is finished – in one machining operation and with one clamping process.
Partners
Automation: EROWA
Tool-clamping technology: LANG TECHNIK
CAD/CAM system: TOPSOLID
Distributor: MOLDTECH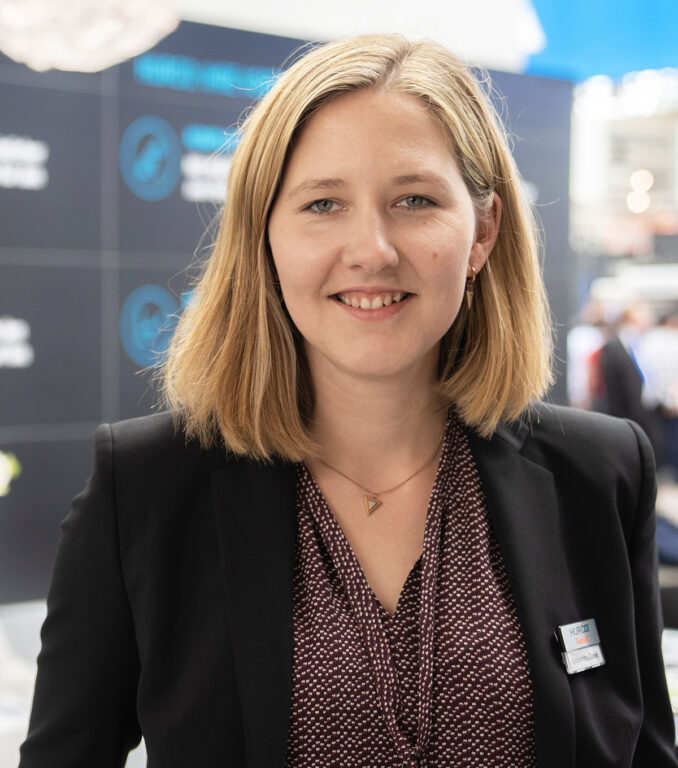 Contact:
HURCO Werkzeugmaschinen GmbH
Alexandra Banek
Gewerbestraße 5 a
85652 Pliening
Phone +49 89 905094 29
abanek@hurco.de
A project of the heart of Maxime Fontvielle
There is nothing unusual about building a custom bike mainly for a trade show. But what if the trade show in question has nothing to do with custom bikes at all? That is quite surprising.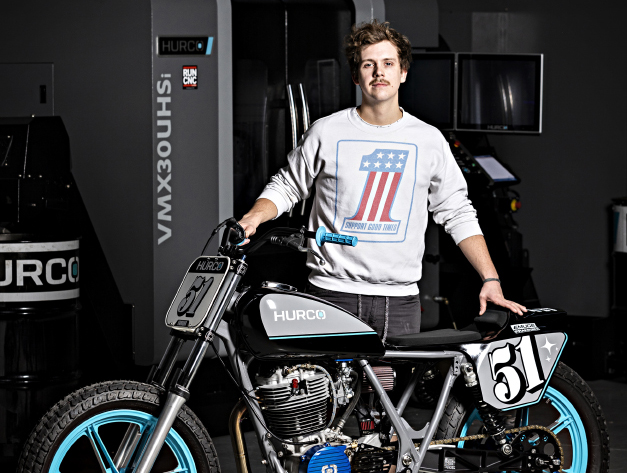 France, May 2021: The Yamaha SR500 pictured here, a flat tracker or speedway bike with a striking design, is the pet project of 27-year-old Maxime Fontvielle. He works as an applications engineer at the French branch of the U.S. machine tool manufacturer Hurco. He embarked on his career path because of his love of two-wheelers.
"As a teenager," he tells us, "my passion was motorcycles. While browsing through various forums, I saw people making parts for racing motorcycles of the 90s. That's when I thought: I want to do that too! I went through apprenticeships at various companies and then started at Hurco."
By chance, Maxime discovered a scrap Yamaha SR500 for only 100 euros and had a bright idea: he wanted to rebuild it as an exhibit for his company to showcase at machine tool industry trade shows.
The somewhat different exhibit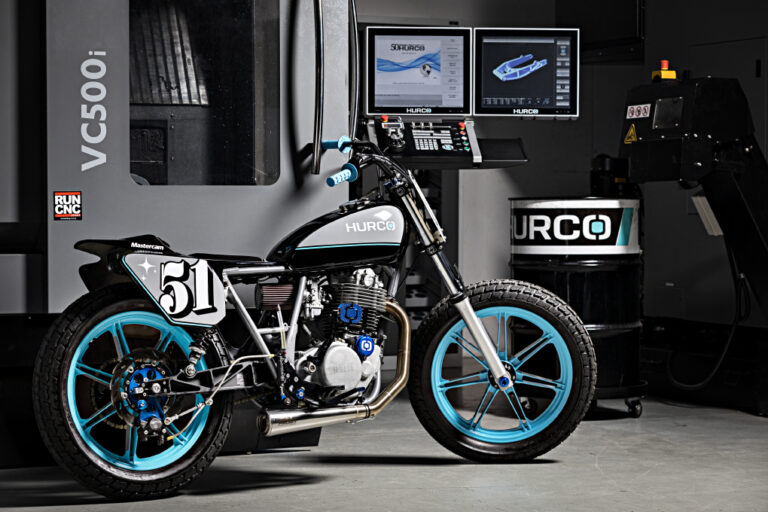 "At trade shows," he says, "every year, manufacturers show off their new machines with classic parts from the aerospace industry. In my opinion, it lacked a bit of passion and spirit."
I wanted to build a beautiful motorcycle with parts that were machined with a machine tool. So I made the suggestion to my boss to get this bike ready as a real speedway monster. American racing discipline, American company … fits like a glove!"
Wisely, Maxime's boss gave the okay – but there were only three months until the next trade show. So Maxime decided to divide the work. He entrusted the rebuilding of the engine to the Paris workshop Machines et Moteurs, with a very precise checklist. Meanwhile, he concentrated on the chassis.
Back came the engine with a displacement increase to 540 cc and numerous interior changes. Highlights include a sharper camshaft, improved oil flow, a Mikuni TMR36 carburetor and a K&N filter. There's also a new manifold and a megaphone muffler with countercone, both from SC Project in Italy.
Piece by piece to a unique piece
Maxime's first task on the chassis was to install a 19-inch rear wheel to match the front wheel. He ended up getting a second SR wheel and machining it to accept a sprocket and 300mm brake disc. He then made special wheel axles, adapted the front wheel to larger bearings, and made both wheels lighter by "splitting" the spokes.
There is no brake at the front, but there is a Brembo caliper and master cylinder at the rear, connected by a stainless steel jacketed line. Since Maxime converted the bike from a rear drum brake, the entire brake system is custom – right down to the caliper mount and foot switches.
Up front is a Yamaha XJR1200 suspension fork; the handlebar stem, triple clamps and handlebar risers are custom.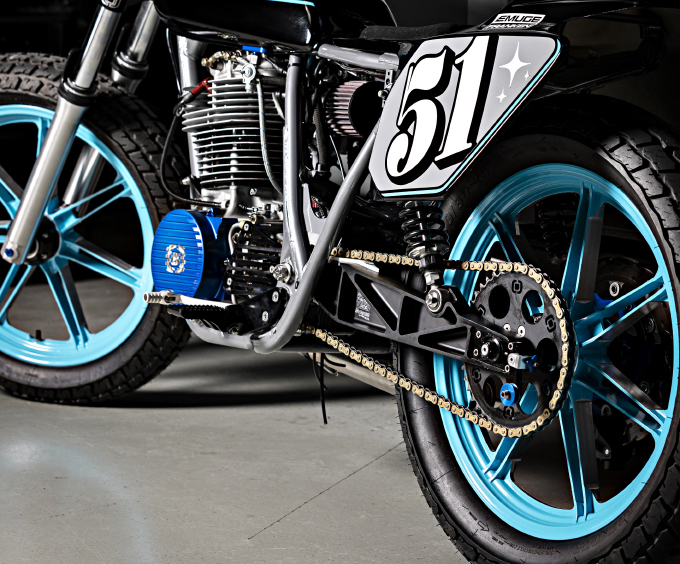 In the rear, two new shocks are attached to a custom swingarm – a part Maxime's boss requested to demonstrate the capabilities of Hurco's machine tools. The swingarm was made in collaboration with CAD/CAM company Mastercam and is custom-made for this bike. It features small details like a brake caliper support bracket and supports for a paddock stand.
Custom bike in Hurco colors
It's a nifty piece to admire up close; but that's just as true of the other custom details on this Yamaha.
From the engine covers to the massive footpegs to the kickstart lever and pedal, Maxime really went all out without overdoing it. An even closer look reveals other fine details, such as the logos engraved on the sides of the triple clamps.
Up top, there's an Airtech Streamling rear fairing that matches the original gas tank, a front race number plate, and speedway handlebars. For the paint, Maxime's brother, a designer at Austrian design agency Kiska, helped out with over thirty designs – all in Hurco's corporate colors.
Everything is now painted in black and gray, with two shades of blue as accents (one for the paint and one for the anodizing). Another friend, Jerome, took care of the decals; they are a thank you to all the partner companies that contributed to the project.
Not only does the SR look damn good, but by all accounts it offers a lot of fun to ride. Soon, Maxime wants to take the bike out for some wild drifts on a speedway track … but until then, his main task is to set the scene for Hurco's next trade show booth.
Zachary Lovelace
Picture: ©Yann Deret
Article from www.bikeexif.com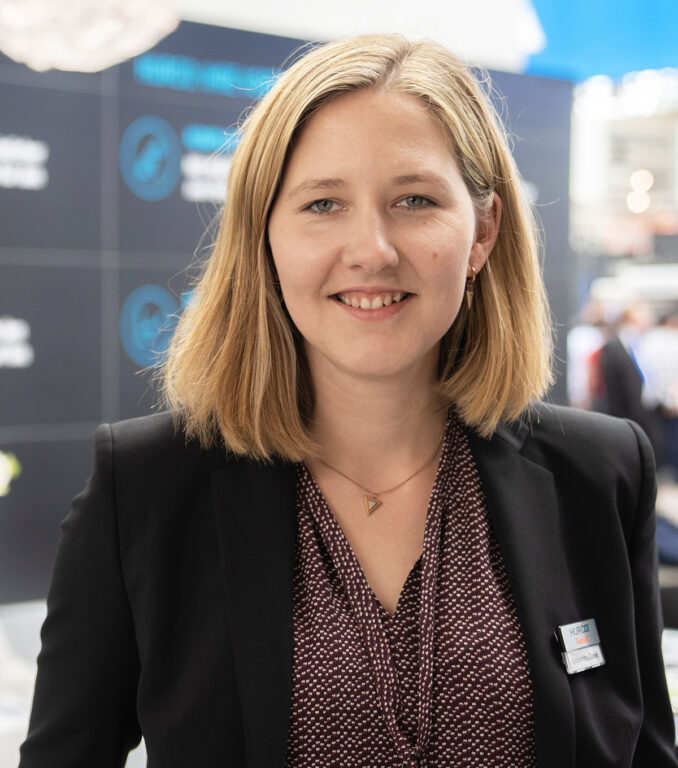 Contact:
HURCO Werkzeugmaschinen GmbH
Alexandra Banek
Gewerbestraße 5 a
85652 Pliening
Phone +49 89 905094 29
abanek@hurco.de
Higher cutting speed with lower load
Compared to conventional milling methods, trochoidal milling enables higher cutting speeds and deeper cuts while reducing the load on the tool and machine. Supported by the computing power of the modern CNC machining center, this concept enables manufacturers to perform complex milling operations with more speed and less effort. Trochoidal milling is a standard option in Hurco's WinMax control, with each data set accessible with just one click.

Pliening, Germany, April 2021: In trochoidal or wave milling, the traverse movement of the tool ─ unlike conventional milling ─ is not linear, but runs along a spiral path. The milling tool penetrates the workpiece until it is completely immersed and the cutting process takes place over the entire length of the tool. A special trochoidal milling cutter is used for this purpose, the diameter of which is smaller than the groove or contour to be machined. Through a combination of feed and rotary motion, the grooving angle can be kept constantly below 90 degrees. This reduces stresses on the tool and machine and enables higher milling speeds and shorter machining times.
Tool life extended
"With the trochoidal process, tool life can be extended by up to a factor of ten, and machining times are reduced by 30 to 40 percent," reports Florian Kerkau, application engineer at Hurco. That's why trochoidal milling is a standard option in Hurco's WinMax control, where any data set can be called up with a click. The program sets the grooving point along with all other machining parameters. "Trochoidal milling is always the most economical solution when conventional milling requires multiple depth steps," explains Kerkau. Trochoidal milling is the process of choice when it comes to milling grooves and slots. Here, the aim is to remove a lot of material in the shortest possible time ─ exactly the right thing for trochoidal milling, which has a clear advantage over conventional milling techniques thanks to its much greater machining depth.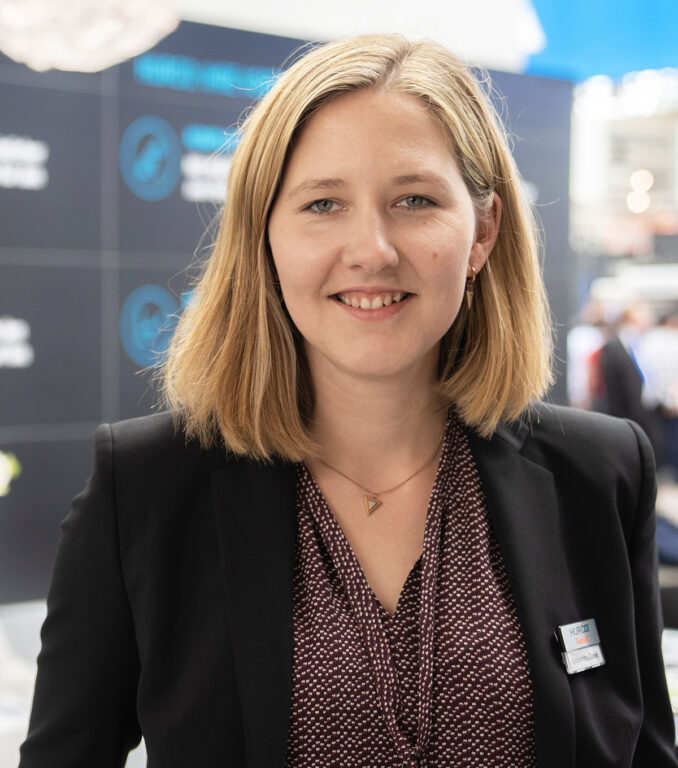 Contact:
HURCO Werkzeugmaschinen GmbH
Alexandra Banek
Gewerbestraße 5 a
85652 Pliening
Phone +49 89 905094 29
abanek@hurco.de
Reduce programming time, avoid programming errors
Solid model import option simplifies programming on HURCO machines. Increased profitability through fast programming.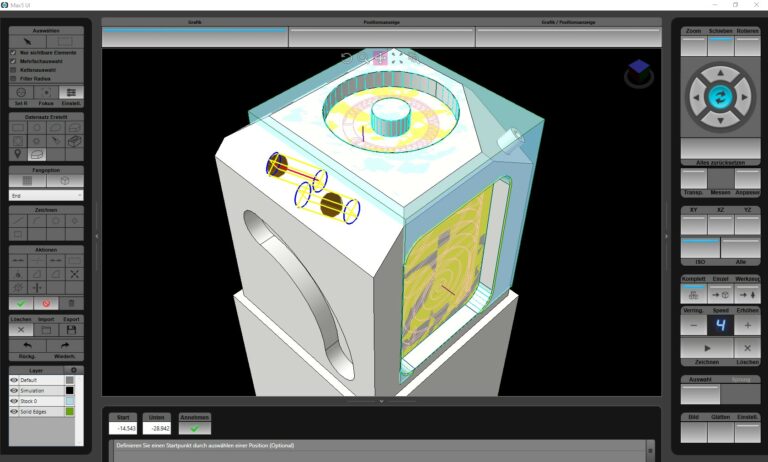 Pliening, Germany, March 2018: Solid model import option simplifies programming for HURCO machines. Programming on 5-axis machines from HURCO can be performed easily and quickly. New and less specially-trained employees can be trained in a short period of time. The new "solid model import" option further reduces the steps. Machine tool manufacturer HURCO has enabled connection of its machines to a solid model import.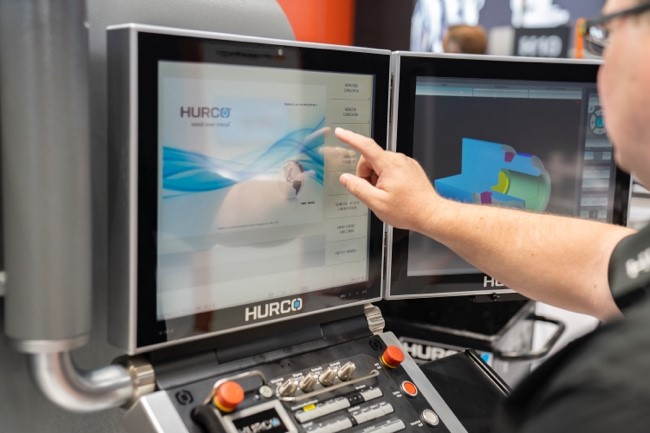 The programming time is reduced and simplified through simple data importing in the STEP 3D model format. The import option interprets the data and makes production programming directly at the machine possible. The path from workpiece to component becomes more secure as well. The potential for error during programming is reduced many times over, partly because the machining simulation of the written program is shown together with the solid model in a single view. Thus, users can immediately see if the programming matches the finished component and can refinish this component if necessary.
Increased profitability through fast programming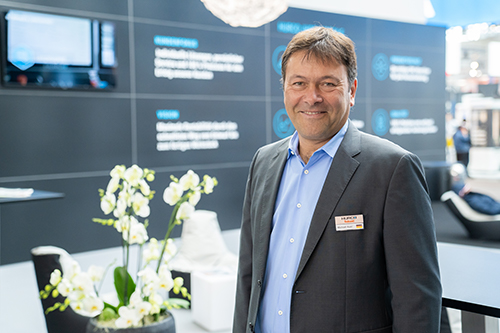 HURCO machines are equipped with the intuitively operable "Max5" conversational control system. "Our control system is an absolute highlight and unique feature of ours", Michael Auer, Managing Director of HURCO GmbH, emphasizes. "It is the fastest in the industry and vastly increases the machine's efficiency." DXF files can be directly imported into the CNC control system. Drawings or sketches are imported quickly into a finished program, which contributes to increased profitability in prototype, single piece and small series production.
Contact: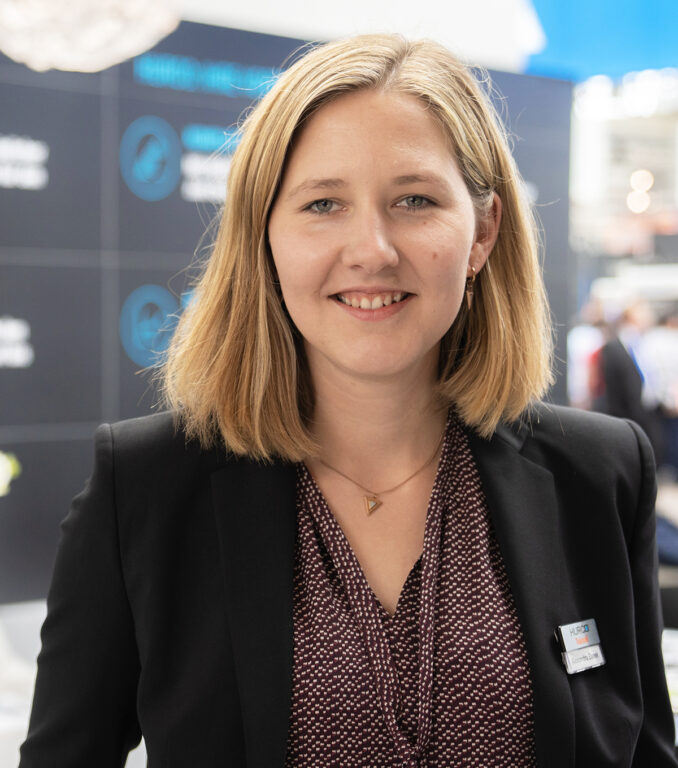 HURCO Werkzeugmaschinen GmbH
Alexandra Banek
Gewerbestraße 5 a
85652 Pliening
Phone +49 89 905094 29
abanek@hurco.de